By Donna Brazile
CNN Contributor





Editor's note: Donna Brazile, a Democratic strategist, is vice chair for voter registration and participation at the Democratic National Committee and founder of Brazile & Associates, a political consulting firm. She was the campaign manager for the Al Gore-Joe Lieberman ticket in 2000 and wrote "Cooking With Grease."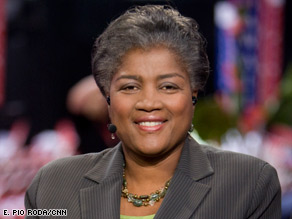 Donna Brazile says Americans must "reconcile racial differences without resorting to name-calling."
(CNN) -- The controversy involving the arrest of a black Harvard professor by a white police officer has brought race relations in America to the front burner.
President Obama has called it a "teachable moment." But what is the lesson to be gained?
I believe that one of the lessons is that we have not entirely passed through the threshold of the post-racial era. Living in it may be our national aspiration, but it is not our everyday reality.
Our everyday reality is that we must continue to struggle to reconcile racial differences without resorting to name-calling. Angry white racist cop! Angry black racist man! We must continue to struggle to find our common ground. Now that a national conversation on racial profiling has begun, where do we go from here?
Having acknowledged that his comment that Cambridge, Massachusetts, Police Sgt. James Crowley had "acted stupidly" in arresting internationally renowned scholar Henry Louis "Skip" Gates Jr. may have escalated the matter, President Obama has volunteered to take time from pressing national and international issues to host a meeting between the two men in which they share cold beers and cooler heads.
'Reclaiming the Dream'
Soledad O'Brien leads a panel of some of the most influential African-American voices to examine unique and innovative solutions to critical issues. CNN and Essence present "Black in America, Reclaiming the Dream"
8 p.m. ET Saturday and Sunday

Why, some people have asked, would the president of the United States involve himself in a local matter?
As a general rule, presidents should refrain from inserting themselves into local matters. But race, especially as it intersects with law enforcement and, specifically, racial profiling, is never just a "local" issue.
Obama is right to help bring about reconciliation, especially since others have either used the kerfluffle to stir up racial animosity or as a wedge issue for political gain.
His involvement sends a clear signal that there is a president in the White House who understands post-racial issues, does not minimize them, and will not ignore them. The message Obama sends should help all leaders understand how "cooler heads" should and must prevail when racial tensions arise.
Obama does not stand alone in trying to ease tensions and raise the broader issue of how we can improve race relations. Led by Mayor E. Denise Simmons, Police Commissioner Robert Haas and City Manager Bob Healy, the city of Cambridge has taken its own steps to facilitate meaningful dialogue.
Soon after the incident ignited a national firestorm, Healy announced the formation of an arrest review panel that will attempt to identify lessons to be taken from the circumstances surrounding the incident and how those lessons can be applied to the policies, practices, and training programs of the Cambridge Police Department.
Don't Miss
Ultimately, we must all become part of this "teachable moment" and the larger issue of racial reconciliation. Although I am a black woman, I long ago recognized that I can only guess as to what the experience of being a black man in America is like.
I do know, however, that being a black person has shaped many of my experiences, both joyous and horrific, as an American citizen and has helped shape my outlook.
I have learned some lessons from white and other non-black fellow citizens. Chief among them is that my own experience, or lack thereof, can affect my perception of people and events. At times, my experience as a black American has allowed me to see things others miss; other times, it has left me believing things that are simply not true.
Therefore, I was not surprised by the findings of a recent WSJ/NBC poll. It found that just 4 percent of African-Americans think Gates was more at fault compared to 30 percent who pointed to the officer. Among whites, 32 percent said Gates was more at fault while 7 percent identified Crowley.
The bottom line: I was not there on that day in Cambridge, Massachusetts, and thus I will not judge the validity of either man's account. My experience, however, tells me that the truth probably lies somewhere in the middle.
Our president is correct. This is a teachable moment.
(Note: If you are interested in finding the tools or resources to begin such a conversation or dialogue in your area, please visit the William Winter Institute for Racial Reconciliation's Web site, the Southern Poverty Law Center Web site, and The Ohio State University's Kirwan Institute for the Study of Race and Ethnicity Web site.)
The opinions expressed in this column are solely those of Donna Brazile.
E-mail to a friend

All About Barack Obama • Henry Louis Gates, Jr. • James Crowley