By Gloria Borger
CNN Senior Political Analyst





Editor's note: Gloria Borger is a senior political analyst for CNN, appearing regularly on CNN's "The Situation Room," "Campbell Brown," "AC360°" and "State of the Union With John King," as well as special event coverage.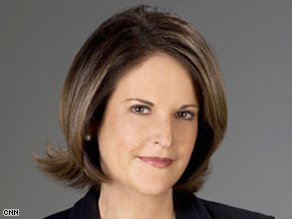 Gloria Borger says independent voters generally like Obama's approach to the job of president.
WASHINGTON (CNN) -- The giveaway was when they started calling him "Barack."
It was jarring, at first, to hear many in this group of 12 independent voters refer to their new president by his first name. But the more they talked, the more it made sense. After all, they are seeing a lot of him.
And they like it -- or at least they like him. "There's a sense of intimacy, or relationship, that was there," says Democratic pollster Peter Hart, who conducted the focus group in Towson, Maryland, on Wednesday night. "[It shows] how unbelievably powerful his personal presence is. ... Don't get fooled by numbers alone. Something is stronger here."
So while the president's poll numbers start to dip, these dozen independents -- including four McCain supporters and a lone Nader voter -- are giving the president some leeway. They feel like they know him, and that he's "honest,' as one put it. And while they say the country is "broke," "worried" and "confused, they're not blaming Barack. If anything, they seem invested in his success.
Way back in the campaign, a central question was whether voters could get comfortable with Obama; now they consider him a regular guy. "It's like if you call your boss by his first name, you identify with him," explains Alex Chambers, a 27-year-old teacher who supported Obama. "He's more upfront, does a lot of speeches, verbalizes more than we've ever been used to," adds Nora Seeley, a 54-year-old dental hygienist who voted for Obama. "I like it, he's showing himself."
Don't Miss
It's the upside of a White House communications strategy that has the president out there all the time -- Obama as the Zelig of his own administration.
While the inside-the-beltway chatter has been that the ubiquitous Obama ought to become a little more scarce (or voters will stop listening), these voters are clearly listening. "He was able to speak about health care in a way that people can understand," says Remi Brooke, 60, an Obama supporter. "It's the first time I've ever seen a politician able to do that."
But there's a downside to this all-Obama-all-the-time tack. These voters, at least, worry that Obama is trying to do too much, too soon. The succession of daily appearances on an assortment of issues -- particularly health care -- has made them anxious. "He's on a mission," says Alex Chambers. "When he gets an idea in his head, he's going to get it done." David Sawyer, a McCain voter, agrees. "He is determined [but] he's trying to have his hands in everything too much."
While change was the buzzword of the campaign, these voters say they didn't expect it -- nor do they want it -- at mach speed. In fact, it worries them. "Why can't they take six months to look at these things?" asks Raymond Fernandez, 44-year-old McCain voter. Pollster Hart says there's a message for the White House here: "I don't think the president has any idea how people feel about the speed. They need to breathe. This is like trying to shove a meal down in a minute."
There's also a sense among these voters that Obama, as Nora Seeley put it, "is putting his hands where he doesn't belong." Case in point: the Henry Louis Gates imbroglio. "He never really apologized," says Raymond Fernandez. "But he admitted he stepped into it." He got credit for backtracking with these voters, but they clearly felt he got ahead of himself in the first place.
Then there's leadership. While the president gets credit from these voters for listening and talking to Republicans, they're unclear about what he really wants. He's the ultimate salesman they like to watch; they're just not sure about what, in the end, he's endorsing. "He likes to get everybody else's opinion," says Remi Brooke. "At the end of the day, he's got to make the decision."
So what's his spine made of? Right now, they're not so sure. Their answers ranged from steel to sand.
And, along with the rest of us, they're watching health care, waiting to see him start to draw some lines in the sand.
The opinions expressed in this commentary are solely those of Gloria Borger.
E-mail to a friend

All About Barack Obama • Health Care Policy • Henry Louis Gates, Jr.