WASHINGTON (CNN) -- House Democrats split sharply over the issue of health care reform Friday as negotiations between a committee chairman and party conservatives broke down.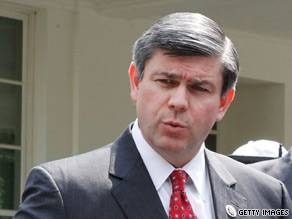 Rep. Mike Ross, D-Arkansas, says the "fundamental change" of health care reform deserves careful attention.
A leader of the party's conservative faction in turn declared that the party's internal negotiations over health care had failed and warned the party leadership not to ram the current version of the health care bill through by circumventing the traditional legislative process.
The escalating public dissension within the ranks of House Democrats raised new questions about the bill's prospects.
House Energy and Commerce Committee Chairman Henry Waxman said on Capitol Hill that he is willing to keep talking with members of the Blue Dog coalition, an influential group of fiscal conservatives, but also made clear that he intends to move forward with the legislation.
Waxman, a California Democrat, indicated that he would bypass a committee vote if necessary and bring the bill directly to the House floor for a final vote.
"We're not going to let [the conservatives] empower the Republicans. I don't see any other alternative," he said.
Waxman's is one of three House committees that is supposed to clear the health care bill; the other two have already done so.
Legislation is typically approved by the relevant committees before being considered by the full House. On rare occasions, however, House leaders can remove a bill from a committee and bring it directly to a vote by the full House.
Arkansas Rep. Mike Ross, a key member of the Blue Dog coalition, predicted that the bill would fail if Waxman circumvented the committee.
"I think it would be a huge mistake if they removed the bill from our committee of jurisdiction and simply [took] it to the House floor," he said.
"We're not empowering Republicans," he insisted. "We're trying to save this bill and save our party."
Several representatives of the 52-member Blue Dog coalition have expressed concern that the legislation being pushed through the House of Representatives does not do enough to rein in health care inflation.

Watch a Senate Republican speak out about health reform »
They've also expressed disagreement with the bill's government-funded public health insurance option and its $1 trillion price tag.
Ross and Waxman held a "very good meeting" on Friday, a Waxman aide said, and talks are continuing.
A Democratic leadership aide told CNN that Waxman and Ross apologized to each other after their meeting for the back-and-forth on Friday and said they will continue to talk on Monday. The aide asked not to be identified.
Bills considered so far by various House and Senate committees include Democratic proposals for a public option, mandates for people to be insured and for employers to provide coverage, and an end to lack of coverage due to pre-existing conditions.
Republicans oppose a government-funded option and any requirement for employers to provide coverage. They also call for limits on medical malpractice lawsuits, which Democrats don't favor, along with a number of provisions contained in the Democratic bills, including increased efficiency in Medicare and Medicaid and a focus on preventive health programs.
"Let's not rush it. Let's slow down. Let's get it right and ensure that the American people get the kind of health care that they need and deserve," Ross said earlier in the day on CNN's "American Morning."
He later noted that only one out of 10 items on the Blue Dogs' list of concerns had been sufficiently addressed, despite meetings over the past few days with President Obama and White House Chief of Staff Rahm Emanuel.
Ross reached an agreement with Obama and Waxman on Tuesday to create an independent council to set Medicare reimbursement rates as a way to help hold down costs.
"Unfortunately, we have failed to reach an [overall] agreement," Ross said.
The public bickering over the bill raised new questions over the timing of a final vote on the legislation.
House Speaker Nancy Pelosi said earlier in the week that she thinks she has the votes to pass the current version of the health care plan. However, Ross insisted Friday that Pelosi was wrong.
"It's not just the seven of us on the Energy and Commerce Committee that are conservative Democrats that have concerns with the bill," he said.
"It's almost the entire Blue Dog coalition, and I can tell you if [the Democratic leadership tries] to bring it up for a vote on the House floor, it would be a mistake," Ross said.
On Thursday, the top Democrat in the U.S. Senate said his chamber won't vote on a health care reform bill until after the upcoming August recess.
The announcement by Senate Majority Leader Harry Reid of Nevada went against Obama's stated timetable for both the House and Senate to turn out bills before the August break.

After Reid's statement, Obama said he would accept a delay so long as work toward passing a bill continued.
Obama met with Reid and Senate Finance Committee Chairman Max Baucus at the White House on Friday to discuss the state of the bill.
E-mail to a friend

CNN's Dana Bash, Evan Glass, Brianna Keilar and Deirdre Walsh contributed to this report.
All About Barack Obama • Health Care Policy