By Xuan Thai and Dan Lothian
CNN






WASHINGTON (CNN) -- Michael Strautmanis knew the Obamas before they were the Obamas.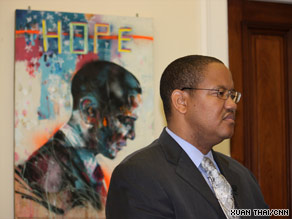 Michael Strautmanis was working as a paralegal in Chicago when he first met the Obamas.
While working as a paralegal for a large law firm in Chicago, Illinois, he met the then-Michelle Robinson and her fiancé, Barack Obama.
Strautmanis, 40, looked to the Obamas as both friends and role models. He and his wife got married the same year as the Obamas and followed their path into law.
Since then, Strautmanis has volunteered for Obama's U.S. Senate campaign, worked as a staffer in his Senate office and now serves as White House chief of staff for the Office of Public Engagement and Intergovernmental Affairs.
Through his years with Obama, he didn't imagine he'd follow him to the White House.
"I didn't have in mind that he would ever be president when I met him. But he is somebody who ... stands out."
Strautmanis believes he is part of something special.
"Every single day something happens. Either I meet somebody or I get to see somebody's face the first time they see the president." Strautmanis said. "I get to see a man that I've known and watched grow for some time really step into this role. It's a pinch yourself thing every single day."
Strautmanis also understands the impact of the Obama administration and, as a member of it, his opportunity to be a role model.
"You know, I think about the pictures of the young men and women that you'd see in the civil rights movement, you know, well-dressed, backs straight, walking forward into something they're doing for themselves, for their family members and for those that are yet unborn, and I try to think about that in the work that I do every single day here," Strautmanis said.
"I've read all the time about the African-Americans that have had a chance to participate in history, and it seems like the people that have made the most impact have, you know, connected with something beyond themselves...so I just try to do it the same way as I've heard other people do."
Strautmanis wants his family and other African-Americans to understand that the White House belongs to everyone, and he takes advantage of opportunities to involve his own family.
"I've had the opportunity, if you can imagine, to call your family members from Air Force One," Strautmanis says. "It's actually not a very good conversation because they're usually so stunned they don't even know what to say, but it's an opportunity, really, as I talk to them to make this real."
E-mail to a friend

All About Barack Obama