By Jared Polis
Special to CNN






Editor's note: Rep. Jared Polis, a Democrat, represents Colorado's 2nd Congressional District and is appearing in CNN.com's "Freshman Year" series along with Rep. Jason Chaffetz, a Republican from Utah.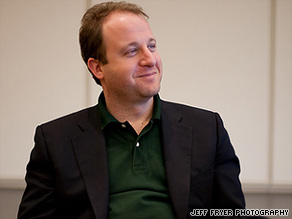 Jared Polis says health care reform discussions have protected small business from potential harm.
(CNN) -- This Fourth of July weekend, I traveled across my district and attended a wide array of events as diverse as our population itself in celebration of our great nation's birth. I held a town hall on health care reform and taught an adult English as a second language class at the University of Colorado.
I hiked through Colorado's "Hidden Gems" wilderness area, was almost washed away in a rainstorm in Northglenn, and celebrated Boulder's 150th birthday and the induction of the Chautauqua House into the National Historic Landmarks registry. I also feel like I ate my way across Colorado. I served brats in Louisville, flipped pancakes with the Gold Hill VFD, and much to my partner Marlon's dismay -- he's a vegan -- I ate ridiculous amounts of BBQ.
The Fourth of July is a time when everyone expects to see their member of Congress, their closest tie to our Democratic republic seated in Washington. There were many events honoring our nation's veterans, active military service men and women, and the memory of their fallen comrades. After all, without them or their brave predecessors, we would have no Independence Day to celebrate.
Don't Miss
In Dillon, I presented flags flown over the U.S. Capitol to local Summit Cove student Jacob Poehls and his pen-pal, Sgt. Balthazar Pineda, a soldier who just returned from Afghanistan. The two were featured on the "Today Show" and had only previously met via letters and satellite, never in person.
In addition to the fireworks, parades and barbeques, I also visited the GEO detention facility in Aurora, Colorado. Unfortunately, I could not bring my camera within the facility walls to capture the heartbreaking site of the normal law-abiding immigrants who were forced into detention despite having no criminal record and a family at home.
Some were in car accidents; others received a speeding ticket or were pulled over for having a taillight out on their car; and some unknowingly flagged themselves in the system by attempting to legalize their status. There are also detainees who immigrated to the United States seeking refuge, seeking to escape persecution -- only to be placed in detention when applying for asylum.
With such common activities triggering detention, you can see how the GEO facility in Aurora is always at capacity.
To meet this need, GEO is building a facility with 1,100 beds that will likely be used to house federal detainees who are being held by different agencies. With a price upwards of $70 million, one must wonder if bigger is necessarily better. Even if those immigrants are eventually given asylum, they may have waited in detention for months or years, separated from their families just for attempting to escape strife in their country of origin. This is not only cruel, but costly.
Instead of utilizing successful and proven alternatives to detention, the Department of Homeland Security often places immigrants who haven't been found guilty of crimes in detention centers, where they end up costing taxpayers more than $120 a night -- a four-star hotel stay -- at most facilities. That, to me, is not in line with our values as Americans.
As soon as I returned to Washington, I found myself in the middle of the health care debate, fighting to implement President Obama's health care plan that will make quality health care affordable for the staggering number of Americans -- 46 million -- without coverage.
I support the president's plan, which will help families by reducing individual health care costs, making it easier to retain insurance coverage while changing jobs, and encouraging preventive care programs to keep kids healthy before sickness starts.
It puts an end to the rising premiums and skyrocketing costs associated with our broken system, and makes health care truly affordable for the millions of families struggling to make ends meet under the current system. It bars discrimination and pre-existing conditions from precluding health care coverage. And by allowing individuals to keep what they like or to shop around for new coverage, the public exchange gives Americans the much-needed stability and peace of mind that is currently lacking in our health care system.
If we fail now to pass cost-saving health care reform, we condemn generations of Americans to a life with little or no health care coverage under the status quo. Premiums will rise, the ranks of uninsured Americans will swell and business will suffer.
I am committed to passing a comprehensive bill that will make health care affordable and accessible for all Americans. But I am also committed to ensuring the legislation is fiscally responsible and equitable to our citizens and the economy.
I recently raised the issue of the impact of the reforms -- including a tax surcharge -- on small business with House leadership. After meeting with President Obama, Health and Human Services Secretary Kathleen Sebelius, House Speaker Nancy Pelosi and House leadership several times, I am happy to say that significant progress has been made on making sure that health care reform is good for small business and good for the economy.
In fact, during a press conference July 16, Pelosi publicly acknowledged that "in the course of the legislative process, we should be able to find more savings," and has shown a great deal of flexibility in solving this problem by looking for more savings and investigating reducing the surtax.
For Democrats in the House and Senate and across America, this is the Congress of hope, change and progress. We have been given an incredible opportunity to fix our health care system and provide long-lasting peace of mind to American families. Health care reform affects us all and I encourage everyone -- especially my colleagues in Congress -- to join me in the fight to pass this bill. The health of America cannot wait.
The opinions expressed in this commentary are solely those of Jared Polis.
E-mail to a friend

All About Immigration • Barack Obama • Health Care Policy