WASHINGTON (CNN) -- The top Democrat in the U.S. Senate said Thursday the chamber won't vote on a health care reform bill until after the August recess.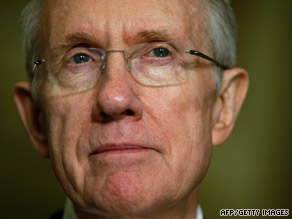 Sen. Harry Reid says Congress won't meet President Obama's August deadline.
The announcement by Senate Majority Leader Harry Reid of Nevada goes against President Obama's stated timetable for the House and Senate to turn out bills by the August break.
In response, a senior administration official said Reid's announcement does not change Obama's timetable, with the president still wanting House and Senate votes before the upcoming recess.
"My attitude is I want to get it right, but I also want to get it done promptly," Obama said. "Our target date is to get this done by the fall. That's the bottom line."
Obama's desired schedule already appeared in doubt because of fierce Republican opposition and cost concerns by fiscally conservative Democrats over the $1 trillion package proposed so far.
Reid said leading Democrats and Republicans of the Senate Finance Committee, who are negotiating a compromise plan, have asked for more time to complete their work.
"The decision was made to give them more time," Reid said. "I don't think this is unreasonable. ... "I think that it's better to have a product that is one that's based on quality and thoughtfulness rather than trying to jam something through."
Obama has said his timetable is more a target than a make-or-break deadline, intended to spur Congress into action. He wants a health care reform bill on his desk by the end of the year to both capitalize on momentum of his new administration and avoid the thornier political climate of midterm congressional elections in 2010.

Watch more of Obama's comments on health care reform »
The president took his reform pitch to Ohio on Thursday afternoon, touring the Cleveland Clinic -- a hospital he has repeatedly praised as a model of high-quality, low-cost care -- and hosting a town hall meeting in Shaker Heights.
He repeated criticism of Republican leaders, saying they were trying to delay progress on health care reform. He singled out recent comments by Republican National Committee Chairman Michael Steele that the process was moving too quickly.
Steele, Obama said, is "seeking to stall our efforts" and "recently went so far as to say that health insurance reform was happening 'too soon.' ... I think that's a little odd. We've been talking about health reform since the days of Harry Truman."
Obama concluded that "reform may be coming too soon for some in Washington, but it's not soon enough for the American people."
Bills considered so far by House and Senate committees include Democratic proposals for a government-funded public health insurance option, mandates for people to be insured and employers to provide coverage, and an end to lack of coverage because of pre-existing conditions.
Republicans oppose a government-funded option and any requirement for employers to provide coverage. They also call for limits on medical malpractice lawsuits, which Democrats don't favor, along with a number of provisions contained in the Democratic bills, including increased efficiency in Medicare and Medicaid and a focus on preventive health programs.
On the House side, Speaker Nancy Pelosi reiterated Thursday that she wants the chamber to vote on a bill before the August break, despite remaining differences among House Democrats.
She had a tough meeting with House Democratic leaders Thursday morning, with House Majority Whip Jim Clyburn of South Carolina describing it as "one of the most contentious" whip meetings since he assumed the party post.
Also Thursday, representatives of the Congressional Black Caucus, voicing the concerns of Obama's liberal political base, predicted that inaction this year would have dire ramifications on millions of Americans.
Several Black Caucus representatives have insisted the health reform plan as drafted is affordable, drawing a sharp contrast with more fiscally conservative Democrats who have raised cost concerns.
Later, several of the fiscally conservative Blue Dog Democrats on the House Energy and Commerce Committee met with White House Chief of Staff Rahm Emanuel and committee chairman Henry Waxman of California to try to resolve their differences over the House proposal. The three-hour meeting ended with two of the Blue Dogs -- Rep. Mike Ross of Arkansas and Rep. Baron Hill of Indiana -- saying they would continue to seek common ground.
"I'd like to think we're making progress," Ross said. "The talks are continuing and that's a good thing."
Pelosi downplayed talk of a Democratic split, saying she believes the party "will reach consensus" on the issue.
"I am more confident than ever," Pelosi told reporters. "When we work out some of the differences that we have, it will be very apparent to everyone else that the momentum is there. When the bill is ready, we will go to the floor and we will win."
Pelosi also echoed Obama's remarks from a prime-time news conference Wednesday night, in which the president repeatedly emphasized that the spiraling costs of the current system would bankrupt the nation while denying coverage to millions more Americans.
Meanwhile, Clyburn and the second-ranking Democrat in the Senate, Dick Durbin of Illinois, raised the possibility of Congress continuing to work on health care reform into the August recess.
Clyburn warned that going on break without passing a bill would bring headlines of failure to act.
"It is much better to postpone, if not cancel vacation -- our August break -- and stay here until we get this done," Clyburn said. "This is too important."
Durbin noted there wasn't time before the August 7 recess for the Senate Finance Committee's compromise plan to be debated by the full panel, then blended with a separate Democratic bill from the Senate Health, Education, Labor and Pensions Committee before going to the full chamber.
"Count the days," he said. "Either we are going to go into overtime, which is always a possibility, or have to face the prospect of doing it after August."
In response, Rep. Mike Pence of Indiana, the third-ranking Republican in the House, said he wasn't interested in staying longer to talk only about what he called Democratic plans to take over the health care system.
Instead, Pence said, "we can do some modest changes that will lower the cost of health insurance for families and small businesses, but that's not what they're trying to do here."
Obama and Democratic leaders say the problems are deeper and systemic, with spiraling costs that eventually will bankrupt the country and with more than 12,000 people a day being added to the current figure of 46 million without health insurance.
The Senate Finance Committee talks do not include a government-funded public insurance option favored by Obama and top Democrats, Republican Sen. Charles Grassley of Iowa said Wednesday. Instead, negotiators are looking at setting up health insurance cooperatives that would provide collective policies.
Obama dropped direct mention of that provision from his opening remarks Wednesday night and Thursday. Both times, he later spoke of the benefits of a public option in response to questions, mentioning how it would provide competition to private insurers to drive down prices.

Democratic Sen. Tom Carper of Delaware said the goal was to bring that competition to the system, regardless of the form or label.
"What we want to do is make sure, whether it's a public option, whether it's a cooperative, whether it's a fallback plan or trigger plan with a public option, we want to make sure that we're going to hold the private sector honest," Carper said. "We're going to make sure that competitive forces work."

E-mail to a friend

CNN's Dana Bash and Deirdre Walsh contributed to this story.
All About Barack Obama • Health Care Policy