From Kevin Bohn and Jessica Yellin
CNN





WASHINGTON (CNN) -- The Obama administration is touting a provocative proposal to give a medical advisory council the power to help decide the scope of coverage that would be eligible for reimbursement under Medicare.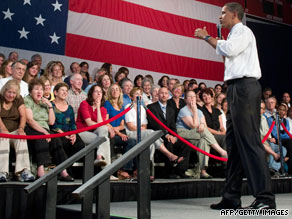 President Obama tells audience in Shaker Heights, Ohio, on Thursday that current system breeds wasteful spending.
Administration officials say the proposed council would improve health care quality and control costs. But some health care industry groups object to the proposal, saying such a council would not be qualified to make those judgments.
This council would consist of doctors and health care experts who make recommendations based on extensive data and analysis of best health care practices, according to administration officials.
Proponents believe the approach would improve care and eliminate some wasteful spending by doctors who are now paid separately for each visit and procedure they authorize. Instead, this council could recommend, for example, a comprehensive approach to treat a patient with chronic heart condition or high cholesterol.
The administration says that by encouraging doctors to follow this type of plan, the government will save money by cutting unnecessary treatments and procedures. The council's recommendations would then go to the commission overseeing Medicare to determine the specific procedures and the actual reimbursement amount.
"It is not an exercise in just cutting reimbursement rates. In fact, in some cases, we may need higher reimbursement rates for certain aspects," President Obama said at a town hall meeting in Shaker Heights, Ohio, on Thursday.
The members of the proposed Independent Medicare Advisory Council would study different procedures and make recommendations.
Administration officials though say this council will not make decisions about what coverage a patient gets.
Still, opponents view this proposal as "big brother" dictating medical treatment.
The conservative Heritage Foundation describes the initiative as being "the equivalent of a federal health board determining how health care was rationed for all seniors."
The administration counters that doctors still will have flexibility to decide the best course of treatment depending on the individual patient but would be guided to a preferred course of action.
Doctors would have a set amount of money, or "bundle," to deal with each patient's problem instead of receiving money for each visit, test and procedure performed. Patients still would have the option of paying for more expensive procedures but would have to pick up the costs above what is deemed reimbursable by Medicare.
"Right now, if a hospital is reimbursed for the number of tests that it does, then that may not give them much of an incentive to make their system more efficient so that, once you take that first test and you've gone in the hospital, then you end up having that test sent around to everybody so you don't have to take five more tests," Obama told the Ohio audience.
"The way the reimbursement system is set up, you don't have that incentive to just have the one test and then use information technology to distribute it throughout the system."
Last week, the administration unveiled its proposal to create the council and -- faced with pressure from a group of fiscal conservatives in the House of Representatives -- Energy and Commerce Committee Chairman Rep. Henry Waxman said he would include the idea in his panel's health care bill.
Groups representing some hospitals and hospice providers are strongly opposed to the proposed council.
"The intent is to use it to reduce health care spending," Rick Pollack, executive vice president of the American Hospital Association, told CNN.
He said the proposal is too narrowly focused on providers; would severely impact rural and teaching hospitals, which may have to charge more because of their unique situations; and would limit the role of Congress, whose members have routinely voted to change past proposals to reduce reimbursements for specific areas.
"When it comes to setting provider rates, we think it is great value to having legislators involved in the process," Pollack said. "They are close to their communities. They understand their constituencies."
The new council, if approved, would replace the current Medicare Payment Advisory Commission, whose 17 members include doctors and health care experts. Once a year it gives recommendations about coverage and reimbursement rates for Medicare but has no authority to enforce its ideas. Its report this past March recommended payments for primary care physicians be increased and home health services rates be decreased.
The administration proposes to make the new council an independent executive branch agency, which would give its recommendations more weight. The president would have to approve or disapprove the its recommendations as a package. Once the president gave his OK, the package would be enacted if Congress did not vote against it within 30 days.
One problem this council could help deal with is the high hospital readmission rate, according to White House Budget Director Peter Orszag and others in the administration. Almost 20 percent of Medicare beneficiaries were readmitted to a hospital within 30 days of being discharged, according to an April study in the New England Journal of Medicine.

Administration officials say this council could reduce that number by recommending: a penalty to hospitals that don't reduce their rate; reimbursing for nurse practitioners (to help with earlier detection); and enacting programs that hand out prescriptions directly to patients instead of asking them to fill them, which patients often don't do.
E-mail to a friend

All About Health Care Policy • Barack Obama • Medicare