(CNN) -- Outgoing Alaska Gov. Sarah Palin is rejecting allegations she broke state ethics laws by letting supporters set up a legal defense fund for her.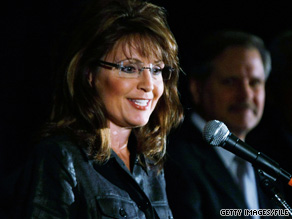 Alaska Gov. Sarah Palin cites the cost of battling ethics complaints as one reason she's leaving office early.
"The fund itself was not created by me nor is it controlled by me. Neither I nor my lawyer has received a penny from this fund," the GOP's 2008 vice presidential candidate said in a statement via her spokeswoman, Meghan Stapleton.
Palin, who gives up her office Sunday, emphasized that she did not control the fund.
"I find the notion that I have taken any action pertaining to the legal defense trust fund misguided and factually in error," Palin said Wednesday. "I have not 'acted' relative to the defense fund, and it is misleading to say I have."
She was responding to a preliminary report suggesting she may have violated Alaska laws.
An investigator hired by the state Personnel Board recommended Palin refuse money from the defense fund and ask the state to pay legal fees for ethics complaints that have been dismissed.
CNN obtained a copy of the report Tuesday.
Don't Miss
Palin attorney Thomas Van Flein said the report is not final, however, and he is preparing "supplemental information" for the investigator.
"There has been no board finding of an ethics violation, and there is a detailed legal process to follow before there is a final resolution," Van Flein said in a statement to reporters.
He added, "Whatever you have seen was released in violation of law."
And in a posting on her Twitter page, Palin said, "New info was just requested even; no final report."
Palin was tapped by Republican presidential candidate Sen. John McCain to be his running mate in the 2008 election. In announcing her resignation as governor this month, she cited the cost of battling ethics complaints filed by critics as one of the reasons she is quitting about two-thirds of the way through her four-year term.
Most complaints have been dismissed, though one led to her paying back taxes on state per diem funds, and she agreed to repay about $8,100 in travel expenses for her children in another case.
Palin supporter Kristan Cole formed the Alaska Fund Trust in April to pay legal bills Van Flein said topped $500,000. Its Web site features a photo of Palin and her husband, Todd, and calls itself "the official legal fund created to defend the integrity of the Alaska governor's office from an onslaught of political attacks."
In a statement Tuesday evening, Cole said the fund was "was thoroughly vetted by numerous attorneys from Alaska to the East Coast." According to a copy of the preliminary report obtained by CNN, Personnel Board investigator Thomas Daniel writes that Cole told him Palin approved the use of her photo and the "official" designation.
"In light of the evidence that the governor expressly authorized the creation of the trust and the fact the trust Web site quite openly uses the governor's position to solicit donations there is probably cause to believe that Governor Palin used, or attempted to use, her official position for personal gain," Daniel wrote.
Daniel wrote that it would be "particularly appropriate" for the state to pay legal fees for a public official when an ethics complaint is dismissed -- but he said the state Ethics Act would have to be changed to do so.
"I can only apply the Ethics Act as currently written," he wrote. "And as currently written, it does not allow a state official to use her position to solicit funds to pay for a private attorney or any other personal expense."
The Alaska Fund Trust limits donations to $150 and bars state contractors or lobbyists from contributing. It has not yet reported contributions.
E-mail to a friend

CNN's Kevin Bohn and Tracy Sabo contributed to this report.
All About Sarah Palin • John McCain • Alaska