(CNN) -- Appearing before reporters Tuesday to discuss the proposed Pass ID program, South Carolina Gov. Mark Sanford instead battled questions concerning his admitted extramarital relationship.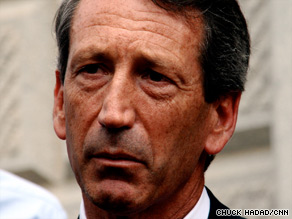 South Carolina Gov. Mark Sanford battled tough questions Tuesday about his affair.
In the session at a state Department of Motor Vehicles office in Greer, South Carolina, Sanford said he was sending a letter to Congress expressing his concerns over the Pass ID program.
The program has been offered as an alternative to the controversial Real ID program, which increased security restrictions on driver's licenses.
However, Sanford was asked no questions about the Pass ID program. Instead, reporters wanted to know how the governor plans to win forgiveness and gain credibility -- in Congress, in South Carolina and within his own family -- after his relationship with an Argentine woman whom the governor called his "soul mate."

Watch Sanford deflect questions about his wedding ring. »
Asked how federal lawmakers can trust him after he admitted lying, Sanford replied evenly, "I made a mistake and lied. I've apologized for that mistake. I've said all I'm going to say on that one, and I'm moving forward. I think the people of South Carolina are ready to do so."
His remarks earned a smattering of applause, but the questions continued. On whether the affair would continue to be a distraction, the governor said, "Life and the choices we make begin each day anew, and so it's as much of a distraction as you want to make it. I'm going to move on with my life. The question is, will you?"
Don't Miss
When Sanford disappeared late last month, there was speculation that he had simply gone off to recover from a bruising legislative session, in which he lost his fight to reject $700 million in federal stimulus money. His office tried to quiet the rumors regarding his whereabouts, telling reporters Sanford was hiking along the Appalachian Trail.
But after being spotted in the Atlanta, Georgia, airport nearly a week after he'd first stepped out of pocket, Sanford came forward with a different story. With his wife nowhere in sight, a teary-eyed Sanford confessed to the affair in a rambling news conference and stepped down as head of the Republican governors' group.
Responding to a question about unemployment, Sanford said he will continue to push forward on proposals he's supported all along, although he might "do it with a bit more humble spirit than I've had before."
And he said he's continuing to court investment in South Carolina.
"The CEOs that I've talked to understand the imperfections that go with mankind, and have been much more accommodating on that front than, with all due respect, some of the media."
He said he intends to continue working as governor and trying to rebuild his relationship with his wife and family, acknowledging he will take time out to spend with them.

"If I didn't think it was more than possible to do great at both I wouldn't be standing here," he said. However, the governor ignored a question about why he wasn't wearing his wedding band.
On Sunday, Sanford wrote an op-ed piece, published in newspapers around South Carolina, telling residents he vows "to begin the journey of trying to get things more right with you and others."
E-mail to a friend

All About Mark Sanford • South Carolina