WASHINGTON (CNN) -- President Obama responded Tuesday to Republican opposition to health care reform, saying that political motives are behind efforts to block progress on the issue.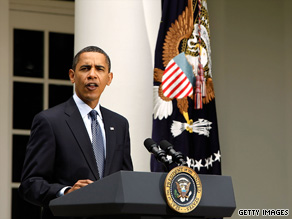 President Obama takes on critics of health care legislation in remarks Tuesday at the White House.
Republicans "who openly announce their intentions to block this reform" would "rather score political points" than confront the ailing health care system, Obama said in a Rose Garden statement.
Republicans responded that Democratic proposals so far would fail to deliver what they promise and eventually lead to a government takeover of health care.
Delaying action now "is so we can be smart about the action we have to take," said Republican National Committee Chairman Michael Steele.

Watch Steele respond to Obama's remarks »
Amid the sharpened debate, a leading House Democrat said Tuesday the chamber may not vote on a bill before Obama's deadline of August 7, when Congress goes on recess. Obama and his chief spokesman indicated the deadline was more a target for progress, rather than a make-or-break moment.
"We're going to come back here after the August break and have a lot of work to do on health care," said White House spokesman Robert Gibbs.
At issue is overhauling a health care system beset by spiraling costs while leaving 46 million Americans uninsured.

Watch CNN's Elizabeth Cohen discuss implications of funding health care with taxes »
The House and Senate are considering Democratic proposals that would create a government-funded public health insurance option to compete with private insurers blamed for driving up costs.
A fiscally conservative House Democrat said Tuesday he reached a verbal agreement with Obama and House Democratic leaders on reducing costs of health care reform legislation.
Rep. Mike Ross of Arkansas, a member of the so-called "Blue Dog" Democrats concerned about the high cost of health care reform, said those at the meeting agreed to create an independent council to set health care reimbursement rates as a way to hold down spiraling costs.
The Blue Dog Democrats comprise enough votes to defeat the health care bill at the committee level.
Ross cautioned that his group also wants other changes in the House bill, including raising the exemption for small businesses required to provide health insurance to workers, and unspecified changes to a government-funded public health insurance option in the bill.
Despite the breakthrough, Democratic grumbling about Obama's handling of health care reform is growing as prospects dim for passing bills in either the House or Senate before the August recess.
A senior Democratic congressional source told CNN that members of the president's own party are frustrated over not getting more specific direction from him on health care.
"We appreciate the rhetoric and his willingness to ratchet up the pressure, but what most Democrats on the Hill are looking for is the president to weigh in and make decisions on outstanding issues," the source -- who asked not to be identified in order to speak freely about private Democratic feelings about the president -- told CNN. "Instead of sending out his people and saying the president isn't ruling anything out, members would like a little bit of clarity on what he would support -- especially on how to pay for his health reform bill."
On the Senate side, Republican and Democratic leaders of the Finance Committee continued a series of meetings behind closed doors to work on a compromise that would be the first bipartisan proposal.
Finance Committee Chairman Sen. Max Baucus of Montana said the group was considering a proposal to tax insurance companies for so-called "Cadillac" health plans that cost much more than average coverage.
Baucus originally wanted to create a tax on the health care benefits provided by employers. However, opposition by organized labor caused Democratic leaders to reject that proposal.
Under the Cadillac plan idea attributed to Democratic Sen. John Kerry of Massachusetts, insurance companies providing such expensive coverage would be taxed instead of individuals receiving benefits.
The talks have reached tentative agreement on "four or five" of about a dozen major issues so far, Baucus said Monday. He refused to speculate whether his group would finish its work before Obama holds a nationally televised news conference on Wednesday night.
On Tuesday, Obama criticized Republican calls to throw out the Democratic proposals and start fresh with a bipartisan approach. He noted comments by Republican Sen. Jim DeMint of South Carolina and conservative columnist William Kristol that health care reform should be defeated to harm the president's political standing.
"These opponents of reform would rather score political points than offer relief to Americans who've seen premiums double and costs grow three times faster than wages," Obama said. "They would maintain a system that works for the insurance and the drug companies, while becoming increasingly unaffordable for families and for businesses."
He and other Democrats cited progress this year in the health care debate, noting that bills passed so far by House and Senate committees provide expanded health coverage and prevent insurance companies from denying eligibility because of pre-existing conditions.
However, Steele accused Obama and the Democrats of trying to ram through a health care overhaul without giving Congress proper time for full consideration. He noted that the nonpartisan Congressional Budget Office reported the bills offered so far fail to deliver benefits touted by Democratic sponsors, including a reduction in health care costs.
Steele said the Democratic health care proposals would lead to a government takeover of health care, but admitted nothing in the legislation so far specifically states that.
"Whether or not it's in the legislation, it's a concern that I've heard ... that needs to be addressed," Steele said.
When asked what form he thought the bill should take, Steele responded: "We've got policy makers ... we've elected to do that."
Republican Sen. Tom Coburn of Oklahoma echoed Steele, saying the health care problem involved high costs and limited access and not a systemic failing requiring an extensive overhaul.
"The access problem is based on cost, and the only way you drive down cost is to create transparent markets to make sure people have some buying power and some economic decision, but we make sure everybody does," Coburn said.
In response, Senate Majority Leader Harry Reid of Nevada called such language "buzz words for 'let's keep things the way they are.' "
In the House, Majority Leader Steny Hoyer of Maryland said Tuesday the chamber could leave for its August break without a vote on a health care bill.
"If we can get consensus we're going to move. If we can't get consensus, we're going to continue to work on creating consensus," Hoyer said.
He said Democrats want to pass a bill next week and continue to discuss changes to a measure introduced last week. Along with questions raised by the Blue Dogs, other Democrats question the measure's proposed tax surcharge on wealthy Americans to help pay for health care reform.
On Monday, a spokesman for House Speaker Nancy Pelosi said she was open to modifying the increased tax provision if that would help bring consensus.

Currently, the House Democrats' bill would impose a surcharge on individuals making $280,000 or more and families making $350,000 or more. Pelosi is now suggesting the surtax would kick in for individuals making $500,000 and families making $1 million.
The White House has so far resisted another idea for raising revenue -- creating a tax on the medical benefits provided by employers. Baucus said he likes the idea, but Obama said it could be too disruptive to a system in which 180 million Americans have health coverage provided by their employers.
E-mail to a friend

CNN's Dana Bash, Deirdre Walsh and Ted Barrett contributed to this story.
All About Barack Obama • Health Care Issues • Steny Hoyer