(CNN) -- Gov. Arnold Schwarzenegger and California legislators announced a tentative deal to eliminate a $26 billion deficit Monday evening, with state agencies looking at billions of dollars in cuts as part of the plan.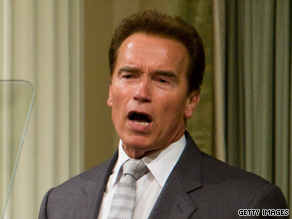 Gov. Arnold Schwarzenegger addresses California lawmakers on June 2.
Schwarzenegger said the "basic agreement" includes no tax increases, which his fellow Republicans in the state Assembly and Senate had refused to support.
While lawmakers will have to make about $15 billion in cuts, Democratic Assembly Speaker Karen Bass told reporters, "We have protected the safety net."
"We're also very happy that in this budget we are making government more efficient and also we are cutting the waste fraud and abuse in some of the programs," Schwarzenegger said.
Lawmakers said the state's already struggling schools would be spared by the cuts. But while the plan does not include tax increases, state funds to local governments are "unfortunately part of the solution here," Senate President Pro Tem Darrell Steinberg said.
"There isn't a whole lot of good news in this budget," said Steinberg, a Democrat. "We have cut and we have cut in many areas that matter to real people. But I think we have done so responsibly."
Don't Miss
He said details would be publicly released soon, after legislative leaders discuss the plan with their caucuses. A vote could come by Thursday night, Schwarzenegger said.
The state's budget impasse forced California to issue IOUs last week to stave off a nearly $3 billion shortfall for July. Some county agencies, state vendors and taxpayers are getting paid in paper.

E-mail to a friend

All About California • Arnold Schwarzenegger