By Jonathan Mann
CNN





(CNN) -- There are more than 200 men behind bars in the U.S. prison at Guantanamo Bay, Cuba. In a way, U.S. President Barack Obama is trapped there too.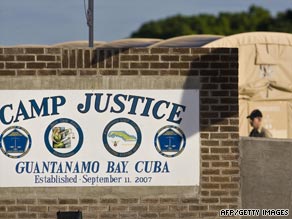 Obama has pledged to shut down Guantanamo Bay but achieving that goal is proving harder than he hoped.
"How we deal with those situations," he said in an interview with the Associated Press earlier this month, "is going to be one of the biggest challenges of my administration."
The detention center for suspected terrorists is one of the most infamous prisons in the world. On his first full day as president, Obama promised to shut it within a year.
On Tuesday he'll be at the half-way point and he's still struggling to close it.
The president says there are three kinds of prisoners at Gitmo. First, there are those who'll be put on trial. Military courts have already heard some cases and civilian court proceedings are under way as well.
There are prisoners who are expected to be released or transferred somewhere else. Since Gitmo was established in 2002, hundreds have been sent to their home countries or other places willing to accept them.
Finally, there are those the U.S. can't prosecute but doesn't want to let go.
All the cases are complicated but that third category is the most controversial: prisoners whom the administration still considers a threat, but doesn't expect to be able to convict in court using evidence judges will accept.
Lawyers within the Obama administration are considering jailing those prisoners indefinitely even after Guantanamo Bay is closed down. Should Barack Obama deliver on his pledge to shut down Guantanamo Bay? Sound Off below
"We don't have a tradition of detaining people without trial," Obama said. "It gives me huge pause, which is why we're going to proceed carefully."
The rights of the prisoners and the demands of U.S. law are part of the problem. There's also politics: widespread opposition to releasing or even jailing any Gitmo prisoners on U.S. soil.
Already, Congress refused to allow government money to be used to close Guantanamo Bay until there are clear plans for its inmates. So the president has to decide.
For now, Obama is caught between the prison he inherited and the promise he made, without any easy escape.
E-mail to a friend