WASHINGTON (CNN) -- The fight over health care reform took center stage on Capitol Hill on Friday, as the House Democratic leadership stepped up its push for passage of a bill before the August congressional recess.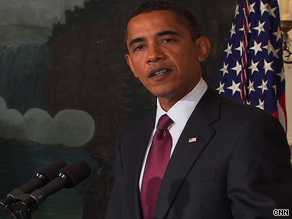 President Obama says health care is at the top of his domestic agenda.
An influential group of Senate moderates, however, broke with House Speaker Nancy Pelosi and President Obama by releasing a letter urging a slower timetable.
Obama, who has put health care reform at the top of his domestic agenda, pushed Congress to get the job done.
"Now is not the time to slow down, and now is certainly not the time to lose heart," the president said from the White House.
"Those who are betting against this happening this year are badly mistaken," he said. "It will happen this year."

Watch Obama defend his controversial plan »
In urging a slowdown of the debate, the centrist senators cited Thursday's conclusion by the nonpartisan Congressional Budget Office that the legislation now moving through Congress won't reduce long-term health care costs.
"While we are committed to providing relief for American families as quickly as possible, we believe taking additional time to achieve a bipartisan result is critical for legislation that affects 17 percent of our economy and every individual in the U.S.," the letter read.
The letter, addressed to the Democratic and Republican Senate leaders, was signed by Susan Collins, R-Maine; Mary Landrieu, D-Louisiana; Joe Lieberman, I-Connecticut; Ben Nelson, D-Nebraska; Olympia Snowe, R-Maine; and Ron Wyden, D-Oregon.
Earlier in the day, Pelosi reaffirmed her commitment to passing comprehensive health care reform before next month's scheduled break.
She joined several committee chairs in claiming an important victory shortly after their version of the bill narrowly cleared both the House Ways and Means Committee and the Education and Labor Committee on Friday morning.
"We continue to build more momentum as we go along," Pelosi said. "It's pretty exciting. It's transformational. It will make a difference."
Pelosi trumpeted, among other things, the endorsement of the House leadership's bill by the American Medical Association, which has historically opposed any reform plan incorporating a government-run option.
The House Democratic leadership's version of the bill is expected to be taken up by the House's Energy and Commerce Committee next week. A separate version cleared the Senate Health, Education, Labor and Pensions Committee on Wednesday.
Democrats still find themselves struggling, however, to regain political momentum on the pivotal issue a day after the Congressional Budget Office warned that the legislation -- as currently written -- will fail to contain costs in part because it doesn't include taxes on employer-provided health benefits.
Obama, who has repeatedly emphasized the importance of cost containment in health care reform, has so far refused to reconsider his opposition to such a measure.
On Thursday, the chairman of the Senate Finance Committee argued Obama's opposition to such a tax has slowed progress on passing a bill.
"Basically, the president is not helping us," said Sen. Max Baucus, D-Montana, emerging from closed-door talks on the bill. "He does not want the (measure) and that's making it difficult."
In the Senate, Baucus is one of seven bipartisan members of the Finance Committee who has been meeting for weeks trying to negotiate health care reform. Taxing the employer-provided benefits had been the principal way Baucus wanted to raise $320 billion to help pay for the trillion-dollar health overhaul.
It was also considered a key way to reduce costs because tax-free benefits encourage more spending on health care, many experts think.
"With the tax exclusion off the table, it's difficult to come up with revenue measures and other savings measures," Baucus said. "We are clearly going to find ways to bend the cost curve in the right direction. That is, include provisions that actually vary the rate of increase in health care costs."
The Congressional Budget Office findings, meanwhile, have provided ammunition for Republican opponents of the Democratic-sponsored measures.
"I don't see any Republicans that have any interest in voting to ration care for their constituents, raise costs to their constituents, and put the federal government in charge of the best health care system in the world," said House Minority Leader John Boehner of Ohio.
Boehner leveled particular criticism at proposed tax surcharges on the wealthy contained in the House bill. The surcharges intended to raise $550 billion over 10 years would start at 1 percent for people reporting income of more than $350,000, go to 1.5 percent for those with income of more than $500,000 and climb to 5.4 percent for those with income of more than $1 million.

"This will kill jobs in America and make it more difficult for people to hire more people," Boehner said, adding that the measure would harm small-business owners. "You just can't continue to tax employment and tax employers and think you're going to get more jobs. It doesn't work that way."
Democrats say the surtaxes would affect only the wealthiest 1.2 percent of households.
E-mail to a friend

CNN's Lisa Desjardins and Deirdre Walsh contributed to this report.
All About Health Care Policy • Barack Obama