From Ted Barrett and Deirdre Walsh
CNN






WASHINGTON (CNN) -- President Obama's opposition to taxing employer-provided health benefits has slowed progress on passing a health care reform bill, the chairman of the Senate Finance Committee complained Thursday.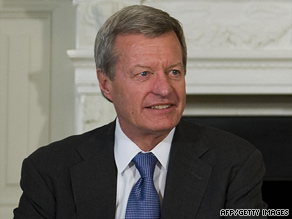 Sen. Max Baucus says President Obama's stand against taxing employer health benefits is slowing down a bill.
"Basically, the president is not helping us," said Sen. Max Baucus, D-Montana, after emerging from closed talks on the bill. "He does not want the exclusion, and that's making it difficult."
Later, Baucus and top committee members from both parties ended their private talks without an agreement as they hoped. Baucus said the earliest an agreement could come would be next week.
After the meeting in Baucus' office with Sen. Charles Grassley of Iowa, the ranking Republican on the Finance Committee, and other key members, Baucus said they were getting close to a compromise plan.
"We are making a lot of progress, but we're clearly not going to have an agreement tonight because there are a lot of issues," Baucus said. "This is a very, very complicated bill, but I feel very comfortable and very confident that in the near future we will reach that agreement."
No details were disclosed. Republicans in the meeting praised Baucus for taking a bipartisan approach, with Grassley saying the proposal would achieve the goal of Obama and Congress of reducing health care costs over the long term -- known as "bending the cost curve down."
In the Senate, Baucus is one of seven bipartisan members of the Senate Finance Committee who has been meeting for weeks trying to negotiate health care reform. Taxing the employer-provided benefits, which are currently excluded from taxation, had been the principal way Baucus wanted to raise $320 billion to help pay for the trillion-dollar health overhaul.

Watch more on the health care debate »
It was also considered a key way to reduce costs because tax-free benefits encourage more spending on health care, many experts believe.
"With the tax exclusion off the table, it's difficult to come up with revenue measures and other savings measures," Baucus said. "We are clearly going to find ways to bend the cost curve in the right direction. That is, include provisions that actually vary the rate of increase in health care costs."
Baucus' comments came on the same day the head of the nonpartisan Congressional Budget Office said health reform bills moving through Congress won't reduce long-term health care costs -- in part because the bills don't include taxes on health benefits.
Budget office director Douglas Elmendorf's comments provided ammunition for Republican opponents of the two Democratic-sponsored measures made public so far -- one passed Wednesday by the Senate Health, Education, Labor and Pensions (HELP) Committee and one proposed this week by House Democrats.
"I don't see any Republicans that have any interest in voting to ration care for their constituents, raise costs to their constituents and put the federal government in charge of the best health care system in the world," said House Minority Leader John Boehner of Ohio.
Noting Elmendorf's testimony that the Democratic proposals so far failed to do that, Grassley said a bipartisan effort was the only way to make it happen "and the only one that will have a possibility of getting to the president."
Obama wants the Senate and House to pass bills before Congress goes on its August recess, but Baucus and the other senators counseled patience.
"It takes time, and that's what I expressed to the president today," said Sen. Olympia Snowe, R-Maine, who spoke to Obama about health care. "I encouraged him to be flexible in the time frame because there is a genuine interest and demonstration -- a good faith effort here -- to achieve a bipartisan product."
White House spokesman Bill Burton said Obama was committed to "getting stakeholders to the table, finding different ways to save money and produce the revenue that we need for comprehensive health care reform."
"Once we get something through the House and through the Senate, we'll be able to go to conference and really put the rubber to the road and get something done," Burton said, referring to a conference committee made up of members of both chambers who would create a compromise bill.
Testifying earlier on the long-term budget outlook, Elmendorf said trying to lower costs without taxing benefits was like "tying one of the two hands behind one's back."
Senate Majority Leader Harry Reid bluntly dismissed Elmendorf for appearing to take a position on a political issue.
"What he should do maybe is run for Congress," Reid said.
Rep. Mike Ross, D-Arkansas, and a key leader of the conservative Democratic group known as the Blue Dogs, told reporters he shares Elmendorf's concerns. "That's what we've been trying to tell everyone for months," he said
Ross said opposition to the initial Democratic plans for health care reform has extended beyond his group to other Democrats.
"No way they can pass this bill on the House floor now," he said. "No way. Not even close."
Boehner leveled particular criticism at proposed tax surcharges on the wealthy contained in the House bill. The surcharges intended to raise $550 billion over 10 years start at 1 percent for people reporting income of more than $350,000, go to 1.5 percent for those with income of more than $500,000 and climb to 5.4 percent for those with income of more than $1 million.
"This will kill jobs in America and make it more difficult for people to hire more people," Boehner said, adding that the measure would harm small-business owners. "You just can't continue to tax employment and tax employers and think you're going to get more jobs. It doesn't work that way."
House Speaker Nancy Pelosi of California said Thursday she is willing to lower the amount of the surtaxes if more savings from proposed reforms can cover the cost of the bill.
"If we can get more savings, we can perhaps lower the percentage that the high end will pay," Pelosi said at her weekly news conference.
But Pelosi made it clear that Democrats still plan to tax the rich and said if the money isn't needed to pay for health care, it would be directed at the nation's budget deficit.
"There is going to be a revenue change at the high end," she said. "It will be directly to reduce the deficit or by helping to cover the cost of this initiative."
Pelosi also said she is willing to make further cost-cutting changes to the bill to satisfy the Blue Dog Democrats.
Ross said he and other Blue Dogs are still discussing what specific changes they will propose as the committees mark up the bill, but that the group is not negotiating any changes to the proposed surtax.

However, Ross made it clear he didn't favor the proposal.
"I don't like the idea of raising taxes in the worst economic recession since World War II."

E-mail to a friend

All About Health Care Policy • Max Baucus • U.S. Senate