By Timothy P. O'Neill
Special to CNN





Editor's note: Timothy P. O'Neill, a professor at The John Marshall Law School in Chicago, Illinois, has written and lectured widely on criminal law and criminal procedure. Among his articles was a 2007 piece for the Oklahoma Law Review: "The Stepford Justices: The Need for Experiential Diversity on the Roberts Court." He is a graduate of Harvard University and the University of Michigan Law School.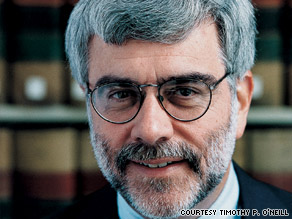 Timothy P. O'Neill says Sonia Sotomayor's record on the court could echo that of David Souter.
CHICAGO, Illinois (CNN) -- So what does the U.S. Supreme Court gain and lose by exchanging Justice David Souter for Sonia Sotomayor?
In Souter, it is losing a graduate of both an Ivy League college and law school; someone with law firm practice as a civil litigator as well as experience as a government prosecutor; a person known as a fine trial judge; and someone who came directly to the Supreme Court from a judgeship on the U.S. Court of Appeals. He is unmarried, childless, and known as a tireless worker.
If Sotomayor is confirmed, the Supreme Court will gain a graduate of both an Ivy League college and law school; someone with law firm practice as a civil litigator as well as experience as a government prosecutor; a person known as a fine trial judge; and someone who comes directly to the Supreme Court from a judgeship on the U.S. Court of Appeals. She is unmarried, childless, and known as a tireless worker.
Oh, and their last names both begin with the letter "S."
So will the change make any difference?
True, Souter is a Republican appointed by a Republican President, while Sotomayor is a Democrat tabbed by a Democrat. Yet Souter has turned into one of the most liberal members of the Court. During the recently completed Term, Souter was in full agreement with Clinton-nominee Ruth Bader Ginsburg in 84 percent of the cases; in contrast, he fully agreed with George W. Bush-nominee Samuel Alito only 39 percent of the time.
It may turn out that Sotomayor's voting record on the court will not be that much different from Souter's. The one area in which she may differ is in criminal law: she may be more pro-prosecution than Souter. It is true that both she and Souter have prosecutorial experience. Yet Souter has been one of the most pro-defense justices during his tenure on the court. On the other hand, Sotomayor's voting record on the Second Circuit does not reveal any particular pro-defense leanings. For example, in the last seven years she has filed only one dissent on behalf of a criminal defendant.
Don't Miss
But if Souter taught us anything, it is that predictions of what kind of Supreme Court justice a person will be can often be dead wrong.
Why this uncertainty?
Compare law to mathematics. Most people look to mathematics as a field where all true statements can be deduced through formal proofs. Yet years ago, Kurt Gödel, a mathematician who also happened to be Albert Einstein's best friend, famously proved that any formal system rich enough to include arithmetic must include at least one principle that is true, but nevertheless unprovable.
A statement that is both "true" and "unprovable" might at first seem paradoxical. Yet you might say that this describes the work of the Supreme Court: The court decides those cases that have divided lower courts in order to establish what is "true" in the law, while acknowledging that its decisions cannot be conclusively "proved" to the satisfaction of all.
Why can't everyone be satisfied? Look at the Supreme Court's most recent Term. Of the 75 cases the court decided after briefing and argument, 23 -- almost one-third --- were decided by a 5-4 split in the Court. And of these 23 cases, 16 of them had exactly the same eight justices splitting 4-4 on the same sides. That is, in all 16 cases Chief Justice Roberts and Justices Scalia, Thomas, and Alito agreed with each other, and Justices Stevens, Souter, Breyer, and Ginsburg disagreed. Each case was decided by the vote of Justice Anthony Kennedy: 11 times he joined the former group; five times he joined the latter.
And this is what made Judge Sotomayor's testimony at the hearings this week so frustrating. Her insistence before the Senate Judiciary Committee that "It's not the heart that compels conclusions in cases; it's the law," perpetuates what Professor Louis Michael Seidman calls the "fairy tale" definition of judging.
Look again at how the same eight justices split 4-4 in those 16 cases last Term: it was the same four "conservatives" against the same four "liberals" in every single case. Why? Because in agreeing to review these cases the Supreme Court had already recognized that these cases fell between the cracks of what is "the law."
You can describe this consistent 4-4 split as being based on politics or ideology or policy preferences. But it is not because four justices can understand "the law" and four cannot.
Judge Sotomayor's refusal to admit this is, of course, no different from the refusal of all the other justices to admit this at their own confirmation hearings. It is an established part of the Kabuki-like performance required of a nominee who appears before the Senate Judiciary Committee. But, in the words of Professor Seidman, it is one more missed opportunity "to talk to the American people as if they were adults" about what the Supreme Court actually does.
So is there anything you can say with absolute certainty about what she will bring to the court?
What we do know is that Sotomayor would be the first Latina to sit on the Supreme Court. Her journey from the East Bronx to Princeton and Yale and then to a federal judgeship is a journey few have taken. She has intriguingly described herself as feeling as if she is "not completely a part of the worlds I inhabit." Her experience gives her a unique perspective on the promise and problems of America.
But is any of this -- or should any of this -- be relevant to work on the Supreme Court?
Consider what Justice Sandra Day O'Connor said about her experience of having Thurgood Marshall as a colleague on the court: "Although all of us come to the court with our own personal histories and experiences, Justice Marshall brought a special perspective. ... His was the mouth of a man who knew the anguish of the silenced and gave them a voice. ... Justice Marshall imparted not only his legal acumen but also his life experiences, constantly pushing and prodding us to respond not only to the persuasiveness of legal argument but also the power of moral truth."
Oliver Wendell Holmes told us, "The life of the law has not been logic: It has been experience." As a justice, Sonia Sotomayor will bring a piece of the American experience never before represented on the court. Long after her individual votes may be forgotten, this will undoubtedly be recognized as an important part of her legacy.
The opinions expressed in this commentary are solely those of Timothy P. O'Neill.
E-mail to a friend

All About Sonia Sotomayor • Anthony M. Kennedy • U.S. Supreme Court