By Jill Dougherty
CNN





WASHINGTON (CNN) -- Secretary of State Hillary Clinton delivers a major foreign policy speech and some Washington political observers ask: "Is she trying to get back in the spotlight?"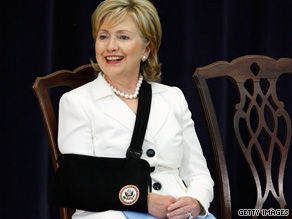 Supporters of Secretary of State Hillary Clinton insist she is not being sidelined.
Since she slipped and broke her elbow last month, the secretary has had to cancel an international trip, and some inside-the-Beltway types are reading the tea leaves. Is it another step in the process of keeping Secretary Clinton from the real foreign policy decision-making in the Obama administration?
"The Daily Beast's" Tina Brown writes: "Left behind on major presidential trips, overruled in choosing her own staff -- Hillary Clinton is the invisible woman at State."
"It's time for Barack Obama to let Hillary Clinton take off her burqa," she said.
The Washington Post's Jim Hoagland said it's President Obama's inner circle, advisers such as chief of staff Rahm Emanuel and senior adviser David Axelrod, who are controlling the president's foreign policy message.

Watch Campbell Brown and her panel discuss issue »
He predicts "tensions will emerge instead between the close-in advisers and the Cabinet secretaries who have been chosen to sell and implement policies more than to decide them."
Clinton aides say charges that the secretary is being "back-benched" are "wholly false."

Watch why some say Clinton is being sidelined »
It is true that Clinton did not appear on a Sunday television talk show until June 7, but one senior official said the White House asked her three times previously to make media appearances.
International travel and scheduling conflicts interfered, the official said. The premise that the administration wants to sideline her, he said, is "nonsense."
Other officials point to Clinton's key role in directing policy on China, Russia and North Korea and on a strategic dialogue with India. They said she is successfully winning back some of the influence and responsibilities traditionally held by the State Department but ceded to the Pentagon under the Bush administration.
Clinton also will deliver what's being billed as a major foreign policy address Wednesday before heading to India and Thailand this weekend.

Other Clinton supporters said that although the domestic media spotlight has shifted from the nation's "rock star" first diplomat to high-profile international appearances by Obama, Clinton maintains a high profile abroad thanks to her intensive travel schedule to Asia, Europe, Mexico, the Caribbean and the Mideast.
Democratic Sen. Bob Casey, a core Obama supporter during the election campaign and member of the Senate Foreign Relations Committee, told CNN, "I believe Hillary Clinton, in the arena of foreign policy, is the leader working with the president, and I think she's done it very well."
E-mail to a friend

All About Hillary Clinton • Barack Obama • Foreign Policy