From Ed Hornick
CNN






WASHINGTON (CNN) -- As President Obama tries pressing ahead with his domestic agenda focused on health care and energy reform, several potential investigations threaten to steal the focus in Washington.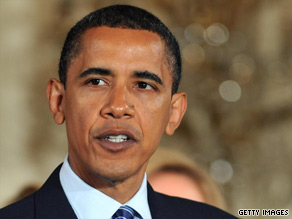 President Obama is tackling a large domestic agenda at the same time as a new CIA controversy begins to brew.
The most recent controversy: The revelation that Central Intelligence Agency Director Leon Panetta told House and Senate intelligence committees that former Vice President Dick Cheney ordered the spy agency to keep Congress in the dark for eight years about a still-secret counterterrorism program.
The head of the Senate Intelligence Committee, who confirmed she learned of the former vice president's order during a recent closed-door briefing by Panetta, expressed outrage.
"That's something that should never, ever happen again," Sen. Diane Feinstein, D-California, said on Fox News Sunday. "I think this is a problem, obviously."
A knowledgeable source familiar with the matter said the counterterrorism program in question was initiated shortly after the September 11, 2001, attacks on New York and Washington. The program, the source notes, was on-again, off-again and was never fully operational. Panetta has since put an end to the program, according to the source.

Watch more on the CIA-Congress controversy »
Efforts to contact Cheney for reaction were unsuccessful. CIA spokesman Paul Gimigliano has declined to comment on the report.
David Gergen, CNN senior political analyst, says that while this is the last thing the Obama administration wants to deal with, it's "starting to mushroom into a life form of its own."
"I think we are heading toward some sort of investigation by the Democrats," he said.
A one-time aide to the former vice president also said Sunday that reports about Cheney and the CIA may be a way to distract attention away from the Obama's policy struggles.
"This is very suspect timing," Republican strategist and former Cheney adviser Mary Matalin said Sunday on CNN's State of the Union. "The president's agenda is almost in shambles. His [poll] numbers are dropping. Isn't it coincidental; they gin up a Cheney story."

Watch more of Matalin's comments »
Sen. John Cornyn, R-Texas, said that while it's important for Congress to be briefed on CIA activities, the latest uproar is simply a "new theme" Democrats are taking on.
"But to trot out the vice president and say he's the one that's at fault, this ... unfortunately sounds like a new theme where they still want to blame the Bush-Cheney administration for the economy and for other things," he told Fox News Sunday.
The CIA story, in combination with other issues, is creating somewhat of a roadblock for the White House on domestic issues, according to Candy Crowley, CNN senior political correspondent.
"I think that when you put it in combination with some other things that are percolating ... this is building up to an extent that the Obama administration, which really doesn't want any of these to happen, is going to have to go with it," Crowley said. "I think one of the unhappier people in this town ... is probably President Obama."
Another distraction looming in Washington could pull even more attention away from Obama's agenda priorities.
Attorney General Eric Holder is leaning toward appointing a special prosecutor to investigate the Bush administration's interrogation policies, a source tells CNN.
The Bush administration has been criticized for the use of harsh interrogation techniques on prisoners, such as waterboarding, which President Obama has now deemed torture.
If the attorney general does move forward, the decision would put the Justice Department at odds with what the president himself has signaled is the past.
"Nobody is above the law and if there are clear instances of wrongdoing ... people should be prosecuted just like any other ordinary citizen," Obama said in early February. "But ... I'm more interested in looking forward than I am in looking backwards."
A DOJ official says a decision could come in the next few weeks. The official insists that if the attorney general does proceed it will be a very "narrowly-tailored" look at only those who might have gone beyond the legal guidance at the time in conducting interrogations.
As the two big counterterrorism battles are beginning to brew, Obama has recently ordered national security officials to look into allegations the Bush administration resisted efforts to investigate a CIA-backed Afghan warlord over the killings of hundreds of Taliban prisoners in 2001.
"The indications that this had not been properly investigated just recently was brought to my attention," Obama told CNN's Anderson Cooper in an exclusive interview during the president's visit to Ghana.

"So what I've asked my national security team to do is to collect the facts for me that are known, and we'll probably make a decision in terms of how to approach it once we have all of the facts gathered up," Obama said.
The inquiry stems from the deaths of at least 1,000 Taliban prisoners who surrendered to the U.S.-backed Northern Alliance in late 2001.
E-mail to a friend

CNN's Elaine Quijano, Pam Benson and Martina Stewart contributed to this report.
All About Barack Obama • Central Intelligence Agency • Dick Cheney