By John King
CNN Chief National Correspondent






(CNN) -- The Sonia Sotomayor confirmation hearings for a seat on the Supreme Court will dominate the Washington stage this week, but just as important to this president's agenda will be the "Off Broadway" maneuverings in an increasingly murky health care reform debate.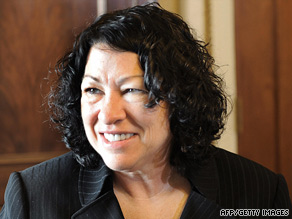 The Supreme Court confirmation hearings for Sonia Sotomayor are sure to take center stage this week.
The White House enters the critical Judiciary Committee confirmation hearings bracing for a potential party-line vote. But privately, some involved in the process see the possibility of three or four Republican votes, depending on how Sotomayor handles questions about affirmative action and gun rights.
The 19-member committee has 12 Democrats and seven Republicans.
Worth watching:
• Sen. Orrin Hatch: The Utah Republican is among those raising questions about Sotomayor's views on the Second Amendment. Hatch's tone as the week nears its end will speak volumes because outside of the committee, his views carry sway with less reflexively partisan GOP colleagues.
• Empathy factor: Frank Ricci, among the New Haven, Connecticut, firefighters whose discrimination suit is a cause célèbre of Sotomayor critics, is among the GOP witnesses for the hearing. If this subplot turns captivating, watch for a Democrat or two on the committee to suggest how wonderful it is to see this conservative "empathy" for Ricci's case. (Google "Sotomayor and empathy" if you need a refresher on this one.)
'State of the Union'
John King reinvents Sunday talk: more time for more politics.
Sunday, 9 a.m. ET

• NRA vs. FBI and FOP: The National Rifle Association is represented on the Republican witness list. The Fraternal Order of Police and a past FBI director are among the Democrats' lead witnesses. Sotomayor allies believe those whose job it is to put people behind bars will have more credibility on law-and-order issues, both with key senators and in the battle for public opinion.
Health care reform
President Obama faces increasing pressure to try to settle the splintering debate about how to pay for health care reform.
House Democrats favor a surtax on wealthy Americans. Key senators still haven't settled on a major revenue stream, though the leading plan of Senate Finance Committee Chairman Max Baucus is to cap the health care tax exclusion. That would mean some Americans would be taxed on the health insurance benefits provided by their employers.
A top Senate Democratic aide predicts the current Baucus proposal would lose a dozen Democratic votes and not pick up as many Republicans in return.
So the Senate Democratic leadership thinks it's time for Obama to spend some of his precious political capital: "We need the president to go public big time and voice support for a way to pay for it that will fly on the Hill."
Some Democratic worries are born of shifting public opinion on key questions, especially among independents.
Don't Miss
Here is a portion of an analysis of recent polling shifts from veteran Democratic strategist and former Clinton White House hand Doug Sosnik:
Political independents, who supported Obama over [John] McCain by eight points in 2008, continue to view Obama positively on a personal level. But their optimism about the future and their support for Obama's job performance has started to decline.
According to the latest NBC/Wall Street Journal poll, 42 percent of Americans believe the country is headed in the right direction, while only 33 percent of independents believe it.
The same poll shows independents' support of Obama's job performance at 46 percent -- 10 points below the rest of the public. The current job performance support has dropped 14 points since April.
On the economy, the poll indicates independents are almost evenly split on the job that Obama is doing, with 48 percent approving and 45 percent disapproving.
Independents' concerns about fiscal matters, and their increased conservatism, are also reflected in the July Quinnipiac poll on health care.
When asked whether they approved or disapproved of Obama's handling of health care, 37 percent of independents approved and 48 percent disapproved.
Sosnik's take is shared by other Democrats who have lived through painful midterm elections. With more and more Republicans in the "oppose Obama" column, Democratic loyalty and unity grows more important.
And yet those vulnerable or nervous Democrats who face the voters two years before Obama does know the history of midterm elections, and their political survival instincts could bring pressure to take a different path from the president.
The health-care debate, including some of the pressure points of the week ahead, will be a fascinating test case.

E-mail to a friend

All About Sonia Sotomayor • U.S. Supreme Court • Health Care Policy