From Jim Acosta
CNN






CINCINNATI, Ohio (CNN) -- In his first trip to Ohio since the election, Vice President Joe Biden jumped back into campaign mode, setting his sights on Republican critics of the $787 billion stimulus plan.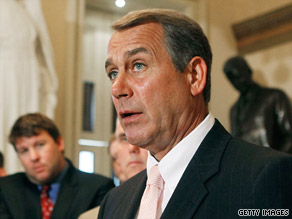 House Minority Leader John Boehner has been a vocal critic of President Obama's economic stimulus plan.
"All the talk about how we're gonna waste all this money, that's a dog that ain't barked yet," Biden said in Cincinnati, Ohio, on Thursday. "And it's not gonna bark on my watch."
It appeared to be a direct shot at House Minority Leader John Boehner of Ohio, who posted a Web video featuring a bloodhound on the hunt for stimulus jobs.
"This is Ellie Mae, and she hasn't found any stimulus jobs. And neither have we," Boehner says in the video.
But some stimulus money has found its way to Boehner's own district in Butler County, Ohio.
Butler County Sheriff Richard Jones, a Republican who recently considered a primary challenge for Boehner's seat, received nearly a million dollars in stimulus funds two months ago.
"The stimulus is working for me here in Butler, because I'm keeping my deputies," Jones said, adding that he had been on the verge of letting them go.

Watch more on the stimulus debate »
"If it wasn't for this stimulus money that's coming down right now, we may not be able to have these pods manned. ... Without officers, these people would be out on the streets. That's dangerous."
Just up the road, the Ohio Department of Transportation is days away from starting repaving work on a portion of Interstate 75, also in Boehner's district. The sign at the work site says that it too is a stimulus project.
Don't Miss
Boehner's office argues that the stimulus is still taking too long to make a difference, saying in a statement, "The entire process has been absurdly slow moving, just as Republicans warned it would be last winter."
Other congressional Republicans are just as vocal against the stimulus plan.
That kind of spending, while beneficial in some ways, does not "dollar for dollar, create or save a job," Rep. Jason Chaffetz, R-Utah, said Wednesday.
"I believe that the discredited Keynesian theory behind the effort is misguided, and I am convinced that it won't work," GOP Rep. Darrell Issa of California said, referring to the theories of economist John Maynard Keynes. "Unfortunately, recent economic data has validated my opposition."
Congressional Democrats have offered mixed reviews, arguing that the stimulus package was necessary but that improvements could be made.
"Frankly, there is good news and bad news," said Rep. Edolphus Towns, D-New York. "The good news is that money is flowing from the federal government to the states at a faster rate than the Congressional Budget Office predicted at the beginning of this year."
The White House Office of Management and Budget has defended the stimulus, saying that every federal dollar spent has, by definition, helped ease the pain of the worst economic crisis since the Great Depression.
"From the moment he was elected, the president has put the economy front and center," Rob Nabors, deputy director of the White House Office of Management and Budget, said Wednesday. "We are slowing the economic freefall, [and] the recovery act is an important part of that effort. ... It's a work in progress, but it's steady progress."
Biden taunted his Republican critics in front of an abandoned warehouse in Cincinnati where $1.6 million in stimulus money is slated for a project that would turn the building into apartments.
"It'll mean much to the people who have a job here, a company that's building this facility," Biden said. "It will allow parents to walk home after they work, sit down at the dinner table with their kids and say, 'Honey, it's going to be all right.' "
Though the vice president said the project will create jobs, Steve Bloomfield, the developer, says he's still waiting for millions in financing from the bank. No financing, he acknowledged, no project.
But Bloomfield says he's close to working things out with a local lender to make it happen.
Biden called for patience, telling the audience, "Remember, we're only 140 days into this deal. It's supposed to take 18 months."
But polls now show that voters in Ohio are losing confidence in the president's handling of the economy,
A Quinnipiac University survey released Tuesday indicates that by a 48 percent to 46 percent margin -- within the range of the survey's 2.8 percentage point sampling error -- Ohio voters disapprove of how Obama's handing the economy.

In May, 57 percent approved of how Obama was handling the economy.
The telephone poll of 1,259 voters was conducted June 26-July 1.
E-mail to a friend

CNN's Ed Hornick contributed to this report.
All About Economic Stimulus • John Boehner • Joseph Biden