By John King
CNN Chief National Correspondent






Editor's note: On CNN's "State of the Union," host and chief national correspondent John King goes outside the Beltway to report on the issues affecting communities across the country.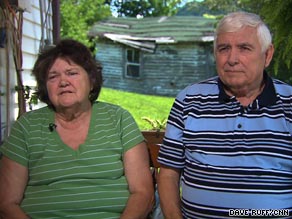 Elizabeth and Carl Walls of West Virginia have had their share of health problems.
CLAY, West Virginia (CNN) -- Carl Walls speaks softly and humbly.
"If life and death depended on money, I'd just have to die," is how he sees things.
"You would be dead now," his wife, Elizabeth, chimed in.
With a nod, Carl acknowledged that she had it right.
"I'd be dead right now."
He wasn't much for trusting doctors to begin with. ("Legal dope dispensers" is how he puts it.)
And then there was the financial hurdle: The Wallses sold two small businesses a few years ago to pay for back surgery and other health problems Elizabeth was facing.
The money is gone, which, thankfully, didn't matter when Carl had a massive heart attack in May.
The ambulance raced him from his home in remote coal country to a rural hospital about 50 miles away. There, they rushed to give him blood thinners but knew that their facility wasn't capable of doing much more. A helicopter swooped Carl to Charleston, where he had multiple bypass surgery.
Money wasn't an issue.
"They treated me with respect, with dignity. In spite of me not having any money, they treated me as if I were a king," Carl said on the porch of a home where the couple lived temporarily after his surgery in Clay, a tiny town tucked into the rolling hills of coal country.
Temporarily, because the Wallses' home was up on a steep hillside -- too much of a test for his heart at the moment -- so they sold it, lived temporarily in town and now are moving to Georgia to stay with family.
'State of the Union'
John King reinvents Sunday talk: more time for more politics.
Sunday, 9 a.m. ET

Carl shrugs at the suggestion that more frequent visits to the doctor might have detected his heart troubles sooner or helped him avoid major trauma through changes in his diet, drugs or even angioplasty or other procedures that, though expensive, are dwarfed by the cost of the helicopter ride and emergency surgery.
And seated just to his right, Elizabeth is another case study in the health care woes of poor, rural America.
She is legally blind from diabetes but doesn't go for the periodic screenings that doctors say are crucial.
"Because I can't pay for them," she said matter-of-factly. "And you know, I could go, and I'd get bills, and I can't pay those bills."
It is Carl's turn to chime in: The helicopter alone cost $11,000.
"We got thousands and thousands of [dollars in] bills coming in, and what can you do about them?" he asked.
I put this question to Elizabeth: "So you would rather not go to the doctor than have a bill come that you can't pay?"
"Right."
It is the dilemma Dr. Sarah Chouinard faces every day.
She runs a community health clinic in Clay, where nearly 30 percent of the population falls below the poverty line and at least 35 percent of the residents lack health insurance.
"We offer sliding fee payment scales," she said during a clinic tour. "If they are at 100 percent federal poverty level or worse, they owe us $5 only, and the rest of their care is waived."
Preventive care is the clinic's urgent focus, first and foremost, because it is good medicine. But also weighing on Chouinard and her colleagues is the knowledge that many, if not most, of their patients, because they can't afford it, won't follow advice to see a specialist if their health care needs are beyond the clinic's capabilities.
"Our hope is to keep people away from needing expensive health care services," she said.
Chouinard claims steady progress and credits a combination of growing trust in the community and aggressive clinic outreach using an electronic record database brought online with the help of federal grant money.
Now, she says, the computer alerts the clinic staff when a patient has skipped a follow-up appointment or failed to schedule a periodic screening. It can even alert doctors if, say, a patient who needs a certain asthma inhaler has not been in to get the prescription renewed.
"So we do a lot of this outreach to drive people back to the health center. ... Our role in a rural setting is key," Chouinard said. "The question is: How do we keep paying for it? How do we keep giving discounted care? How can we afford to keep the doors open?"
Make no mistake, Chouinard embraces the ideal of universal health care coverage. But as she follows the debate in Washington, she says she has not heard much, if anything, about how critical rural community health centers would be impacted.
"It will be interesting to see what happens if they come up with universal coverage," she said. "What will our role as a federally qualified health center be? ... How is our role defined after that?"
What one senses is a conflict between idealism and rural reality; of course, she would like everyone covered, but there is a nagging sense that politicians who don't understand places like this will pass major legislation that changes the funding model for health care -- and clinics like the one here -- and yet somehow doesn't work as advertised.
"I worry we will have patients here who somehow do not fall into some category and somehow slip through the cracks," is how Chouinard put it.
Carl and Elizabeth Walls share that concern. They have worked and paid taxes all their lives and say that if the government is going to spend billions on health care reform, then covering people like them "should rate pretty high," Elizabeth said.
But, like Chouinard, they worry about falling through the cracks.
"You know, we have worked all our lives and tried, and we can't seem to get any program that works for us," Elizabeth Walls said.
Their worries might not make sense to those promising universal, or near-universal, access in Washington.
But that sentiment, maybe polite skepticism is a better way to put it, is commonplace in the tiny coal towns where many of the jobs have disappeared, and whatever is said now is judged alongside the many past promises that help was on the way.
E-mail to a friend

All About Health Care Issues