By Mark Preston and Ted Barrett
CNN





(CNN) -- Sen. Roland Burris, D-Illinois, announced Friday that he will not run for a full six-year term next year.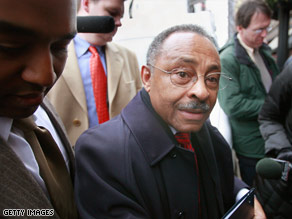 Sen. Roland Burris has been under fire since being appointed to fill President Obama's Senate seat.
"Being a United States senator today requires not only a significant time commitment to performing the job, but almost equal commitment to raising funds to run competitively for the office," he told a crowd of people at the Chicago South Loop Hotel.
"In making this decision, I was called to choose between spending my time raising funds or spending my time raising issues for my state," he said. "I believe that the business of the people of the state of Illinois should always come first."
As Burris emerged to speak, the crowd greeted him with cheers, urging him to run.

Watch Burris discuss why he won't seek re-election »
Burris, currently the only African-American U.S. senator, is serving the remaining two years of President Obama's Senate term, but he has never been embraced by his party's leaders in Illinois or Capitol Hill.
Burris was appointed to the seat in late December by then-Gov. Rod Blagojevich, who had been arrested on federal corruption charges for allegedly trying to sell Obama's seat to the highest bidder.
Democratic leaders urged Blagojevich not to make an appointment. He disregarded those wishes by naming Burris, a former state attorney general and state comptroller, to the seat.
Don't Miss
Blagojevich was impeached and removed from office in January and Democrats grudgingly recognized Burris as the junior senator from Illinois. However, Burris still faced an investigation and scrutiny at the same time he was trying to learn the ropes on Capitol Hill.
In June, Sangamon County State's Attorney John Schmidt ruled that it would not charge Burris with perjury in connection with his testimony for the alleged "pay for play" scheme with Blagojevich to fill the Senate seat. Schmidt said Burris gave incomplete but truthful answers to questions about his conversations with Blagojevich's representatives.
Questions remain on who will run for Burris' seat. A top candidate for the nomination, state Attorney Gen. Lisa Madigan, announced earlier this week that she would run for re-election of her current office.

Other Democrats reportedly eyeing the seat include Illinois Treasurer Alexi Giannoulias, Chicago Urban League President Cheryle Jackson and Chicago businessman Christopher Kennedy. Kennedy is the son of the late Sen. Robert F. Kennedy, D-New York.
A senior Senate Republican source told CNN that Rep. Mark Kirk has told GOP leaders that he plans to run for the seat. Kirk's spokesman could not be reached for comment Thursday evening.
E-mail to a friend

CNN's Mark Preston, Ted Barrett, Paul Steinhauser and Evan Glass contributed to this report.
All About Roland Burris • Rod Blagojevich