By Paul Steinhauser
CNN Deputy Political Director





WASHINGTON (CNN) -- President Obama still inspires confidence, but a new national poll indicates that the number of Americans who say he is a strong leader and tough enough to handle a crisis has dropped significantly over the past few months.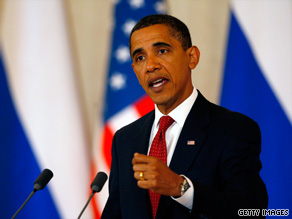 Seventy-two percent of Americans in a recent poll say President Obama inspires confidence.
Seventy-two percent of people questioned in a CNN/Opinion Research Corp. survey released Thursday believe Obama inspires confidence. That's down three percentage points from a CNN/Opinion Research Corp. poll conducted in February.
Seven out of 10 also said the president is a strong and decisive leader. However, that figure is down 10 percentage points from the opening days of Obama's presidency. Sixty-four percent said that Obama is tough enough to handle a crisis, down nine percentage points from February.
"Although his rating as a strong leader has dropped, he still scores fairly well on that measure," said CNN Polling Director Keating Holland. "But Obama's stand on the issues and his plans for the future appear to be his biggest weakness."
The poll suggests that 53 percent believe Obama has a clear plan for solving the country's problems, down 11 percentage points since February. Fifty-six percent said the president agrees with them on the issues they care about, down seven percentage points from February.
"The 56 percent figure is still a majority, but it contrasts poorly with the nearly eight in 10 who say they approve of Obama as a person," Holland added. "When it comes to personal characteristics, his strong suit is his ability to inspire confidence. That's not a bad thing for a president to have in tough economic times."
Half of those questioned said that the Democrats' control of Congress is good for the country. Forty-one percent believe it's a bad thing. The poll was conducted between June 26 and 28, with 1,026 adult Americans questioned by telephone. The survey's sampling error is plus or minus 3 percentage points.
E-mail to a friend

All About Barack Obama • National Economy