WASHINGTON (CNN) -- Former Washington Mayor Marion Barry declared himself vindicated in his latest run-in with the law Thursday after federal prosecutors decided not to pursue stalking charges against him.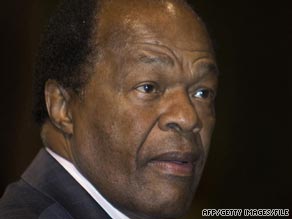 Former D.C. Mayor Marion Barry was arrested July 4 and charged with stalking, police said.
The 73-year-old, who sits on Washington's city council, was arrested Saturday.
But on Thursday, the U.S. attorney for the District of Columbia issued a statement saying he had decided not to pursue stalking charges "following a review of the evidence ... and a careful analysis of the relevant factors, including the elements of the offense and the strengths and weaknesses of the evidence."
Barry refused to discuss his relationship with the woman who filed the complaint, except to say it was "over."
"I'm saying there was an inappropriate arrest," he said. "That's what you ought to focus on, not the actions of Marion Barry."
Barry said his arrest "has caused great pain in my family, in this community and in the nation." His godson was teased by other children, and his 92-year-old mother was worried, he said.
"This could have caused her to have a heart attack or a stroke because of the trauma of it all," he said.
Barry was arrested July 4 by the U.S. Park Police on what they said was suspicion of stalking.
A Washington resident flagged down a Park Police officer on patrol near Anacostia Park and pointed to someone in another car, saying he was stalking her, according to a police news release. Barry was arrested. He was cited and released with a mandatory court appearance for the stalking allegation.
Barry's other run-ins with the law have included a federal sting operation in 1990, when the then-mayor was videotaped smoking crack cocaine in a hotel room.
The misdemeanor conviction forced him to leave office. But after serving six months in a federal prison, Barry overcame the scandal and reclaimed his office in 1994.
In his latest political comeback, Barry won his current seat on the District of Columbia council in 2004.
E-mail to a friend

All About Marion Barry