WASHINGTON (CNN) -- The story of Sen. John Ensign's affair with a former staffer took a new twist Thursday with the revelation by Ensign that his parents gave the woman's family $96,000 as a gift.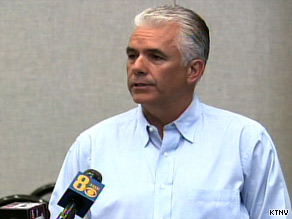 Sen. John Ensign of Nevada admitted in June to an extra-marital affair.
A statement released on Ensign's behalf by his lawyer, Paul Coggins, said a check totaling $96,000 from both of Ensign's parents was given to Cindy Hampton, her husband, Doug, and two of their children in April 2008. It described the money as two separate gifts to each family member.
"Each gift was limited to $12,000," the statement said. "The payments were made as gifts, accepted as gifts and complied with tax rules governing gifts."
Under U.S. tax laws, gifts of up to $12,000 are tax-exempt.
According to the statement, Ensign's parents learned of the affair from their son and decided to make the gifts "out of concern for the well-being of long-time family friends during a difficult time."
Doug Hampton was Ensign's administrative assistant and Cindy Hampton worked on his election campaign when the affair occurred. Ensign and his family were longtime friends with the Hamptons.
Ensign, a Republican from Nevada, announced the affair in June, more than a year after the check was given. Prior to the announcement, he was considered a possible Republican presidential candidate for 2012, and it is unclear if the affair has derailed his chances.

The revelation raised questions about whether Ensign violated campaign finance reporting laws. On Wednesday, Doug Hampton told the Las Vegas Sun political television program "Face to Face with Jon Ralston" that his wife received more than $25,000 in severance pay, which would trigger campaign finance reporting stipulations.
In response, the Center for Responsibility and Ethics in Washington, a non-profit that focuses on government wrongdoing, called Thursday for the U.S. Department of Justice to investigate the case.
Melanie Sloan, executive director of the liberal-leaning group, told CNN that if Ensign paid Cindy Hampton more than the $25,000 threshold as severance, he would have to report it as an in-kind campaign contribution. She said no such report has been filed.
Sloan conceded that gift payments to Cindy Hampton and her family would not trigger the campaign finance reporting requirement.
Also Thursday, the Las Vegas Sun published on its Web site what it said was a letter from Ensign to Cindy Hampton that ended their affair. The one-page hand-written letter published by the newspaper was dated February 2008 and began "Dear Cindy."
"What I did with you was wrong," it said. "I was completely self-centered and only thinking of myself."
The letter laments the harm caused to her family, naming "Doug" and three children.
"I betrayed everything I believe in. I lied to myself over and over," it said.

"I take 100 percent responsibility for my actions. It was wrong; it was sin. God never intended for us to do this."
Ensign's office refused to comment on the letter.
E-mail to a friend

CNN's Ted Barrett and Shirley Zilberstein contributed to this report.
All About John Ensign • U.S. Senate • Republican Party