By Ted Barrett
CNN Congressional Producer





WASHINGTON (CNN) -- After huddling Wednesday with Democrats on the Senate Finance Committee, Chairman Max Baucus told reporters that lawmakers still need to come up with $320 billion over the coming decade in taxes to pay for the health care plan. The remaining cost of the bill would be paid for through savings in Medicare, Medicaid and other programs.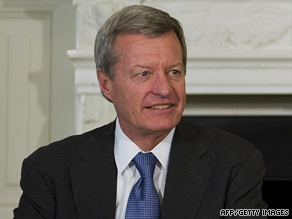 Sen. Max Baucus says lawmakers need to come up with $320 billion over the coming decade for health care.
All options for raising taxes remain on the table, the Montana Democrat said, including taxing employer-provided health benefits, though that provision appears to lack significant Democratic support.
Sen. Kent Conrad, D-North Dakota, who has been involved in negotiations on the bill, said senators are talking about raising the tax exemption on those benefits to $25,000 for a family.
Raising that exemption level is aimed at softening Democratic criticism of the proposal because it means only people with high-value health benefits -- so-called Cadillac plans -- would have to pay the new tax.
Doing so would raise $90 billion over 10 years, Conrad said, leaving negotiators $230 billion to raise through other taxes. Conrad and Baucus wouldn't specify which additional tax hikes are gaining favor among lawmakers but said everything -- from raising taxes on sugary drinks and alcohol to a surtax on the wealthy -- remains on the table.
"It's always difficult to raise taxes -- always, always, always," Baucus said. "But we gotta pay for this bill."
Don't Miss
Also Wednesday, Senate Majority Leader Harry Reid met with key Senate Republicans to help smooth negotiations on the complex bill.
Sen. Olympia Snowe, R-Maine, told the Nevada Democrat that negotiators need more time to write the bill and shouldn't be forced to meet a goal set by Democratic leaders to have the bill off the Senate floor by August 7.
Reid told the lawmakers he would be "flexible" on the time frame, but that he still wants to try to have the bill done by that date, a Reid aide said.

E-mail to a friend

All About Health Care Policy • Max Baucus • U.S. Senate