NEW YORK (CNN) -- They are two presidents from different parties but have striking similarities.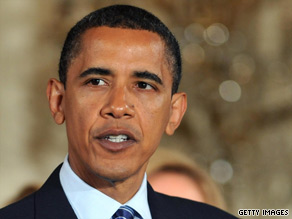 President Obama maintains that investing in key areas such as health care will help stabilize the economy.
Former President Ronald Reagan and current President Obama are incredibly popular, and both faced rising unemployment early on.
Reagan's experience could be instructive for Democrats today; the GOP lost 26 seats in the 1982 elections. Reagan's popularity could not trump double-digit unemployment.
"If we look back at 1982, as soon as the unemployment rate hit 10 percent, there was a political dynamic that changed significantly ... and it became much harder for the incumbent party to be able to make their case," said Daniel Clifton, head of policy research at Strategas, an investment strategy and policy research firm.
But Reagan was fighting joblessness, inflation and high interest rates. Obama has a full plate, but inflation and high interest rates are not on it.
Nonetheless, the jobless rate today is at 9.5 percent, which is above the peak of 8 percent the White House predicted earlier this year. The administration now concedes 10 percent is likely in the next couple of months.
While some economists have long forecast jobless rates this high, Vice President Joe Biden now admits that the administration "misread how bad the economy was."
Not exactly, according to the president.
"I would actually -- rather than say misread, we had incomplete information," Obama recently told NBC.
But House Minority Leader John Boehner on Wednesday called both explanations "the greatest fabrication I've seen since I've been in Congress."
"I sat through those meetings at the White House with the president and the vice president, and trust me, there's not one person that sat in those rooms that didn't know how serious our economic crisis was," he said.
The White House has stressed that the mess is not its doing, saying that it inherited the economic problems from the Bush administration.
And the president, officials say, is working quickly to fix the economy by investing in and trying to reform energy, health care and the banking system, and by promoting a historic $787 billion economic stimulus package.

Watch more on the rise in green jobs »
But two key questions are emerging: How long will the public be patient and give the president's plans time to work? And how big a price will his party pay next year if the jobless rate tops 10 percent?
Clifton says that at the 10 percent figure, "you probably know multiple people who are unemployed and you begin to worry about if you are going to be unemployed yourself, or maybe your spouse, and it creates an anxiety among voters."
And that anxiety may translate to an opening for Republicans to pounce on.
"The first midterm elections for a president are often referendums on his rule and his performance," said Andrew Kohut, president of the Pew Research Center. "If he fails to match public expectations that he's going to fix the economy or if the economy gets worse in the view of the public, that could hurt the Democratic Party very much in 2010."
Tina Brown, co-founder and editor of the DailyBeast.com, said the current economic situation has left Obama vulnerable.
"I think there's a huge vulnerability there. I think that Obama has lost focus, or at any rate made us feel that he's lost focus, which perhaps has more important repercussions."
David Frum, a former speechwriter for President George H.W. Bush, said that Obama's economic plan disregarded "better ideas that could have gone to work right away" -- which leaves him and Democrats vulnerable.
Democrats, however, have a solid majority in Congress, and it will be more than a year until they face voters again.
In the meantime, the White House will have to convince Americans that things are getting better, or at least not getting worse. Obama has promised to save or create 3 million to 4 million jobs. The economy this year is losing, on average, 564,000 jobs every month, according to statistics.

It is impossible to verify whether the president specifically has saved any. And even if a few hundred thousand stimulus jobs can be created, that would not hold back the flood of private-sector job cuts still expected.
That could make for tricky politics from now through 2010.
E-mail to a friend

CNN's Ed Hornick contributed to this report.
All About Barack Obama • Unemployment Rate • U.S. National Economy