By Peter Hamby
CNN Political Producer





COLUMBIA, South Carolina (CNN) -- After nearly four hours of deliberation and multiple rounds of balloting, the South Carolina Republican Party voted Monday night to censure Mark Sanford for traveling overseas to visit his mistress -- but stopped short of calling on the governor to resign.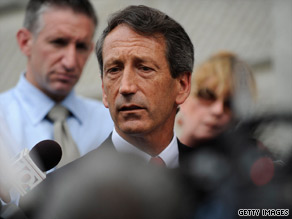 The South Carolina Republican Party voted Monday night to censure Gov. Mark Sanford.
Members of the South Carolina GOP's executive committee approved a resolution censuring Sanford for conduct that demonstrated "repeated failures to act in accordance" with the party's core principles and beliefs, according to GOP sources on the teleconference.
The resolution also reprimands the governor for "falling below the standards expected of Republican elected officials."
Sanford issued a short response to the censure through his spokesman late Monday.
"The governor fully appreciates the party's position, and he intends to work diligently to earn back its trust," said spokesman Joel Sawyer.
Although the resolution says Sanford "breached the public's trust and confidence in his ability to effectively perform the duties of his office," it does not explicitly ask him to step down.
No sitting governor had previously been censured by the South Carolina Republican Party.
"We must hold true to our core beliefs and recommit to being Republican now more than ever before," party Chairwoman Karen Floyd said in a statement released shortly after the vote. "And now is the time for healing for our great state."
Don't Miss
The decision was made on a lengthy conference call that was organized for party members to discuss how to respond to the Sanford saga, which has consumed the South Carolina political world for two weeks.
The call at times featured heated debate among party activists on all sides of the Sanford issue. Some wanted the party to demand Sanford's resignation, while others supported the lesser penalty of censure.
There also were party members who opposed taking any action against the governor. It took four ballots before the resolution was approved by majority vote.
Despite the differences of opinion, the party voted to "speak with one voice" about Sanford's behavior.
"We had a good healthy discussion about what our role is as a party is, versus our personal feelings, versus what the party platform says," said Kristin Maguire, executive committee member from Pickens County. "Not easy stuff."
It's difficult to tell whether the resolution will influence the governor, who continues to resist calls for him to step aside, including those from members of his party.
One Republican official who spoke to Sanford on Monday told CNN that the governor dismissed resigning, calling it "the easy way out."

E-mail to a friend

All About South Carolina • South Carolina Republican Party • Mark Sanford