By Ed Hornick
CNN






WASHINGTON (CNN) -- Alaska Gov. Sarah Palin caught the political world by surprise when she announced that she will resign at the end of July.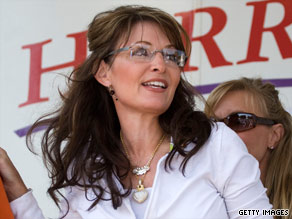 Alaska Gov. Sarah Palin's decision to step down in late July has rankled both Republicans and Democrats.
Her decision has not only rankled political pundits and observers in Alaska and across the country, it has, oddly enough, united Democrats and Republicans in confusion.
But the 45-year-old governor's future could be aimed at being the ultimate GOP superstar, whether it's giving million-dollar speeches, traveling the lower 48 states on a book tour or even getting her own TV show.
John Ridley of National Public Radio says she has the potential to be a Republican "kingmaker."
"She was never going to be president of the United States. But who's got all the sway in the Republican Party right now? It's the political pundits; it's the talk show hosts; it's the people who are not responsible to an electorate," Ridley told CNN's Campbell Brown. "I would not be surprised if around 2011 people are circling around Sarah Palin, saying, 'please, anoint us for the road to the White House.' She's never going to be president but possibly a kingmaker."
GOP strategist Alex Castellanos says she could now make "Bill Clinton kind of money" from speaking tours and book deals. But he admits that although she has appeal within the tight GOP base, her decision could hurt her chances for a presidential run.

Watch analysts weigh in on Palin's future »
"Who's going to buy those books and buy those tickets? Well, it's Republican primary voters," he said. "She's not going to be president. And more so now, this is, you know, bad news still for [former Arkansas Gov.] Mike Huckabee, because she is still a player, and Sarah Palin is now the next Mike Huckabee in the Republican Party."
Huckabee, a 2008 presidential candidate who is also expected to run in 2012, has since given speeches and now hosts a TV show on Fox News.
But Palin, unlike Huckabee, had faced intense scrutiny since Sen. John McCain picked her to be his running mate in the 2008 race.
Although her acceptance speech drew rave reviews, her shaky performance in media interviews, the drama surrounding her 18-year-old daughter's pregnancy and two ethics investigations into her firing of the state's public safety director dogged her throughout the rest of the campaign.
And criticism also came from within the McCain campaign.
Aides sniped about Palin being a "diva" who ignored top advisers and lacked "fundamental understanding" of key issues. The McCain-Palin ticket lost.
Palin's attorney, however, said Monday that despite the problems, it was Palin who ultimately led the GOP 2008 ticket.
"In my opinion, she was the national campaign for Republicans last fall," Thomas Van Flein said. "I know John McCain was the candidate, but the decision was really about Sarah Palin and could she take on Obama. That was a lot of weight on her shoulders to carry that campaign, and they almost pulled it off."
But Palin's decision to leave office is a giant political risk, analysts say.
"This is not the best political move anyone has made even in the state of Alaska. If she is making a case her state is better served if she doesn't remain governor, it's not going to be hard for other Republicans to make the case 'Imagine how better our country will be served if you never become president,' " Castellanos said.
Donna Brazile, a CNN political analyst and longtime Democratic strategist, says that jumping out of office this early could lead to "flaming out before 2012."
Vice President Joe Biden said he respects Palin's decision, "and I take her at her word that it had a personal ingredient in it. And you have to respect that."
Democratic strategist and CNN contributor Paul Begala, meanwhile, says her decision to step down is a "desperately irresponsible move."
"She has quit every job she had. I think that doesn't stand up very well when you are trying to run for president, to take on the hardest job in the whole wide world," he said.
But Palin said Monday that "I am not a quitter. I am a fighter."

Watch more of Palin's comments »
Matt Felling of KTVA-TV in Anchorage says that Palin's only motivation since the 2008 election has been political but that the electoral map will not work out.
"And whatever you think of the press conference on Friday morning, this was just -- I don't know how you do the math in her mind -- this was her calculation to get her to 2012 in the strongest state possible," Felling said.
Republican radio host Rush Limbaugh seems to agree.
"If she has any desire for a future, she's going to have to do it in the lower 48. She cannot do it in Alaska. It's not going to get it done," he said.
When pressed about her future, Palin would say only that she would work in public service -- and did not rule out a run for the White House.

Castellanos admits that her power in the party is somewhat diminished and could be a boon for former Massachusetts Gov. Mitt Romney, a 2008 Republican presidential candidate who is also considered a 2012 hopeful.
"If Huckabee runs, if Palin runs, there is now a big division on the right. That maybe one reason you saw Huckabee attack Palin on this. This is good news for a Mitt Romney in a Republican primary," he said. "The Huckabees and Palins may be splitting some of that vote there, and ... Mitt Romney in the middle center right ... opens up the field."
E-mail to a friend

Drew Griffin, Kathleen Johnston, Kristi Keck and Matt Smith contributed to this report.
All About Sarah Palin • Republican Party