WASHINGTON (CNN) -- The United States will support an international mediation effort to restore democratic order in Honduras, U.S. Secretary of State Hillary Clinton said Tuesday.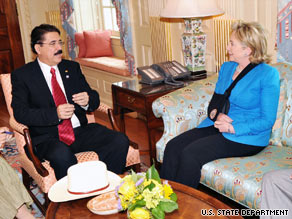 Hillary Clinton says she told President Jose Manuel Zelaya the U.S. supports a restoration of democratic order.
Clinton's remarks came after a meeting with deposed Honduran President Jose Manuel Zelaya.
Zelaya will participate in the talks, which Costa Rican President Oscar Arias will mediate.
The provisional president of Honduras, Roberto Micheletti, also has signaled his willingness to participate, Clinton said.
"We call upon all parties to refrain from acts of violence and to seek a peaceful, constitutional and lasting solution to serious divisions in Honduras through dialogue," Clinton said. "We hope this process can begin as soon as possible."
Zelaya's face-to-face meeting with Clinton was his highest-level meeting yet with U.S. officials.
"I reiterated to him that the United States supports the restoration of the democratic, constitutional order in Honduras," Clinton said.
Don't Miss
Zelaya is trying to reclaim the presidency after the Honduran military removed him from office June 28 and flew him to Costa Rica. He is looking to Washington for help.
"I ask the United States to do more than the other countries of the world," Zelaya told CNN en Español in an interview Monday night.
The United States, United Nations, Organization of American States and European Union have condemned the coup and demanded that Zelaya be returned to power.

Watch the Honduran military block the runway »
Micheletti, the interim president, has rejected the characterization of the transfer of power as a coup. The military action against Zelaya, Micheletti has said, was backed by a court order, and arrest warrants have been issued against Zelaya for violating the constitution.
In brief televised remarks Monday night, Micheletti remained steadfast that his government was upholding the constitution.
"We have demonstrated we are a country of laws, which must be followed," Micheletti said.
Zelaya supporters demonstrated near the presidential palace and blocked some roads Monday.
A 19-year-old man was killed and at least eight were wounded after security forces opened fire and used tear gas on several thousand protesters who ringed the airport in anticipation of Zelaya's attempted return Sunday.

Watch Honduran protesters mourn teen's death »
The OAS on Saturday suspended Honduras' membership for refusing to reinstate Zelaya. The U.N. General Assembly has demanded that he be restored; the United States and the World Bank have suspended some aid; and the European Union and other nations have recalled their ambassadors from Honduras.
In remarks Sunday, Micheletti said Honduras was open to good-faith talks with the OAS but reiterated that his government was legitimate.
"We are going to remain here until the country becomes calm," he said.
Presidential elections are scheduled for November.

After 18 years of nearly uninterrupted military rule, Honduras returned to civilian control in 1981. Since then, the military has not seemed interested in holding power in the nation of more than 7 million people, about 70 percent of whom live in poverty.
Military interventions were once common in Latin America, but civilian governments have held sway since the 1980s. Before Sunday, the only other barracks revolt this decade was an unsuccessful 2002 coup attempt against Venezuela's Hugo Chavez. The military displaced Chavez but backed down days later and allowed his reinstatement.
E-mail to a friend

All About Honduras • Jose Manuel Zelaya