WASHINGTON (CNN) -- Senate negotiators are searching for new ways to pay for an overhaul of the U.S. health insurance system after recent polls showed many Americans oppose funding it through taxes on employer-provided health insurance, a key senator said Tuesday.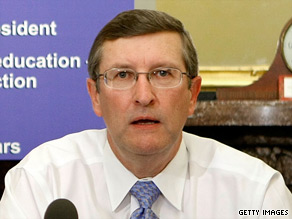 Sen. Kent Conrad says most of the tax options are related to the health sector.
A recent New York Times/CBS News poll showed only 20 percent of respondents support the tax and a Washington Post/ABC News poll found 70 percent opposed it. A Kaiser Family Foundation poll found 54 percent of respondents oppose the new tax.
The poll was a setback for many lawmakers who considered the tax the best way to raise hundreds of billions of dollars needed to pay for health care reform.
"When you get numbers like that, it certainly causes you to look for alternatives," said Sen. Kent Conrad, D-North Dakota.
Conrad is chairman of the Senate Budget Committee and leads a Finance subcommittee on taxation. He said the proposal is unpopular because most Americans are not aware of the value of their employer-provided health benefits and don't know if they will be subject to the new tax.
He gave few clues to possible alternatives, but said, "We are searching for options, and there are a fair number of them that can work."
Taxing sugary drinks, something House Democrats have pushed, is out because "there are a lot of members who don't like it," Conrad said. But lowering tax deductions for wealthier Americans, something advocated by President Obama, is still under consideration.
Most of the tax options are related to the health sector, Conrad said. New ideas were raised Tuesday during a meeting with congressional negotiators.
The idea of taxing health care benefits has been controversial since it was proposed. Obama has never fully supported it, and many key Senate Democrats have opposed it outright. Even so, Conrad didn't rule it out, saying the tax remains "viable" while senators seek other options.
Meanwhile, a new surtax on Americans who make more than $250,000, the sugary drinks tax and increasing the Medicare payroll tax were among the proposals for funding health care reform discussed by Democrats on the House Ways and Means Committee.
Rep. Charles Rangel, the committee's chairman, said "all of the above" and more were covered during an all-day meeting at his Capitol Hill office, but declined to give details.
The House Democrats' draft legislation includes a government-run health care plan to compete with private insurers. Complicating discussions on how to pay for their health care plan is the fact that the Congressional Budget Office has not yet released a price for the legislation, because it is in draft form.
House Democratic Caucus Chairman John Larson, a Connecticut congressman who sits on the tax-writing committee, declined to comment on specific tax proposals, saying "most things are on the table." But he flatly said a tax on employer health benefits "is not on the table."
Larson said the committee members hoped to reach an agreement Tuesday night. Maryland Democrat Chris Van Hollen said members were also discussing how Medicare savings could offset the cost of reform.
The three senior Democratic lawmakers working on the House version of the bill -- Rangel and California Reps. Henry Waxman and George Miller -- were scheduled to brief fellow Democrats Tuesday night. White House Chief of Staff Rahm Emanuel, a former House Democratic leader, is expected at the meeting, according to two leadership aides.
Majority Leader Steny Hoyer, D-Maryland, told reporters the House committees are planning to finalize health care legislation next week. A vote on the House floor is expected at the end of the month.
E-mail to a friend

CNN's Ted Barrett and Deirdre Walsh contributed to this report.
All About Health Care Policy