By Kristi Keck
CNN





(CNN) -- Ten years ago, Al Franken wrote a satirical book detailing his fictitious race for the White House. In "'Why Not Me?" Franken trounces former House Speaker Newt Gingrich to win the election, but after countless scandals, a mental breakdown and a cloning incident, President Franken is forced to resign.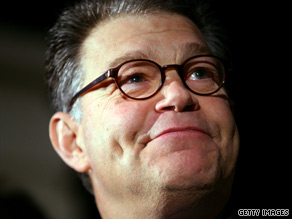 Comedian, author and radio host Al Franken can now add "senator" to his resume.
Asked how he came up with the idea for the book, Franken said at the time that a number of people had been encouraging him to run for office.
"They thought it would be a good idea because I obviously know a lot about politics; I'm comfortable on camera, as you can tell; I've been married once, have two children; very, very good looking. And I told them that I'd be a terrible office-holder, so that was sort of the genesis of this idea," he said.
As far-fetched as the plot was, Franken's political aspirations weren't fantasy, and eight months after Election Day, the Democrat will be sworn in as an office-holder, representing Minnesota in the Senate.
Soon after, the outspoken comedian and former radio host will take over the desk once occupied by election rival Norm Coleman.
For months, Coleman appealed the election results, in which a recount gave Franken a 312-vote lead. But Coleman's case was put to rest last week when Minnesota's Supreme Court ruled in Franken's favor.

Franken on the issues »
When Franken is sworn in Tuesday, the title "senator" will become just the next line on a lengthy and varied résumé that reflects a man who has built up an illustrious yet controversial name for himself.
Franken, born in New York in 1951, moved to Minnesota when he was 4 years old. He grew up in a middle-class family and did well in school. Franken attended Harvard University, where he majored in political science.
After graduation, Franken teamed up with his home-state pal Tom Davis, and the two started writing for what became known as "Saturday Night Live." Franken was also a performer -- playing self-help guru Stuart Smalley and impersonating public figures like Henry Kissinger and the Rev. Pat Robertson -- and over the course of two decades, he took home five Emmys for his work on the show.
Don't Miss
Post-"SNL," Franken dabbled in film and had a successful career as an author, penning several best-sellers, including "Rush Limbaugh is a Big Fat Idiot and Other Observations."

Watch CNN's Brianna Keiler report on Franken's plans »
In 2004, Franken made a name for himself as someone well-versed in politics through "The Al Franken Show," carried by Air America Radio. During his final show on February 14, 2007, Franken announced his intentions to run for the Senate.
But the man who once played Liam the Loose-Boweled Leprechaun wasn't the first unlikely politician to come from Minnesota. Voters there elected former wrestler Jesse Ventura as their governor in 1998.
David Schultz, a professor of law at Hamline University in St. Paul, says Franken's win was probably not an affirmation of support for the Democratic candidate but was, for many, a "lesser of two evils vote."
Third-party candidate Dean Barkley was chipping into Coleman's support, and "in addition, Coleman threw all his dirt against Franken early, and by the general election, it was old news."
"Coleman had little new to campaign on during the general election, and Franken became a better candidate in terms of campaigning during the last two months," he said.
In a video posted on his campaign Web site, explaining that he wanted to run, Franken said Minnesotans had "a right to be skeptical" about whether he was ready to take on such a challenge.

Watch more on the Franken factor »
Franken cited late Minnesota Sen. Paul Wellstone as his political hero. Wellstone, who first won election to the Senate in 1990, died in a plane crash shortly before the 2002 election.
Going into the race, Coleman was considered one of the more vulnerable Republicans seeking re-election. Although he'd started distancing himself from President Bush, he had been long seen as one of the president's allies.
Franken's campaign took off, and he raked in contributions, but his foes were not going to let Coleman go down without a fight. The former comedian's past came back to attack him as anti-Franken ads focused on some of his more controversial lines.
The National Republican Senatorial Committee launched a 60-second spot highlighting clips from Franken's SNL days, with an announcer saying, "Rape jokes, poor and foul-mouthed anger do not make for good training for the United States Senate." The Minnesota State Republican Party also blasted their challenger for a 2000 Playboy column he wrote called "Porn-O-Rama!"
When the votes were tallied on Election Day, Coleman held a slight edge on Franken, leading with just 206 votes. Under Minnesota law, a recount was in order because the margin of victory was less than .5 percent. The controversial recount, and subsequent court challenges, evoked comparisons to the 2000 Bush-Gore saga.
But Franken came out on top in one of the most drawn-out Senate races in Senate history.
A day after the Minnesota Supreme Court handed down its unanimous decision in favor of Franken -- and 239 days after the election -- the newly dubbed senator-elect thanked his supporters in an at-times emotional speech on the steps of the state Capitol.
"It is, of course, technically true that this was Paul's U.S. Senate seat. But I don't think Paul saw it that way," Franken said Wednesday, again paying respects to Wellstone.
"This seat belongs to the people of Minnesota, and so did Sen. Wellstone, and so will I," he said as he thanked his wife, Franni, supporters, volunteers, campaign staff members and the people of the state he will represent.
Now, Franken takes on what could be the most influential role of his life as he joins the Senate, giving Democrats their potentially filibuster-proof 60th vote.
Senate Democrats are welcoming their newest with open arms, and although the months-long contest has reached a resolution, it's likely the division over Franken will follow him to Capitol Hill.

"The arrival of the man from Minnesota will make the Democrats move even more to the left. He will not only be one more vote for the left, but one more loud voice for liberal policies," John Feehery wrote in a commentary for CNN.com. Feehery is a former staffer for former House Speaker Dennis Hastert and other Republicans in Congress.
"When Franken first started in politics, he did so as the liberal answer to Rush Limbaugh. Imagine if Rush were the 60th vote for Republicans, with George Bush as president. Now, think how Franken will act as the 60th vote for President Obama," he wrote.
E-mail to a friend

All About Al Franken • Minnesota • U.S. Senate • Norm Coleman