By Jill Dougherty
CNN Foreign Affairs Correspondent





MOSCOW, Russia (CNN) -- In an upbeat and optimistic video blog, Russian President Dmitry Medvedev says that, after a period in which Russian-U.S. relations "declined to a level practically on a par with the Cold War era," Russia is "ready to play our part" to build a better relationship.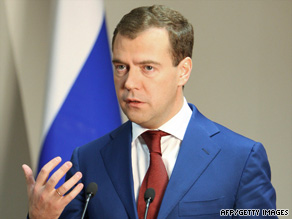 Russian President Dmitry Medvedev says the nations must combine their efforts to improve the global economy.
In the blog posted Thursday, Medvedev said he wanted to "say a few words" about what he hopes will come out of his upcoming summit with U.S. President Obama and share his vision of relations between the two countries. The meeting takes place Monday and Tuesday in Moscow.
"Unfortunately," he says, relations worsened over the past few years and, even though U.S. and Russian presidents had a "good, personal rapport," there was a "crisis of confidence, lack of action, unwillingness to take any new steps."
Obama's administration, Medvedev says, "is showing its willingness to change the situation and build more effective, reliable and ultimately more modern relations. We are ready to play our part."
There are problems the two countries cannot solve on their own, the Russian president says, including the fight against terrorism, extremism, proliferation of weapons of mass destruction and drug trafficking. "It is my conviction that Russia and the United States do have something to offer other countries. There is therefore only one road to follow: the road of agreement."
Medvedev also noted the global economic crisis, saying it's a challenge "before which we are all absolutely equal."
Don't Miss
"It is hard to say who is having a harder time getting through these difficulties," he said. "Russia, after all, had only just begun addressing many of its economic problems, while this is the first time in many years that America has been hit by such a serious crisis.
"But, now is not the time to say who is suffering more and who is stronger. Now is the time to unite our efforts. We simply must improve our relations in order to put our joint efforts into resolving the numerous problems facing the world today."
The Russian president says he hopes that while in Moscow, Obama, his family and his team will have "the chance to get to know Russia better. I hope he will sense here our real interest in improving the relations between our countries and peoples."
"I hope that my American colleague and I will hold substantial and full-fledged talks that will produce real results," Medvedev says. "I hope that these talks will give us the chance to examine all aspects of our relations. We need to move forward on the basis of a resolutely practical agenda. I hope that this sincere desire to open a new chapter in Russian-American cooperation will be brought into fruition to the benefit of our countries and the entire world."
At the end of the blog, which was voiced-over in English, Medvedev cited a quote from a famous American president.
"President [John F.] Kennedy, who during the Cuban missile crisis found himself having to make some very difficult decisions, once addressed to the American people words that I think are very wise: 'If we cannot end now our differences, at least we can help make the world safe for diversity.' "
E-mail to a friend

All About Dmitry Medvedev • Barack Obama • Russia