By Paul Steinhauser
CNN Deputy Political Director





WASHINGTON (CNN) -- A national poll indicates that nearly half of all Americans think the economy has stabilized, but only one in eight believes that a recovery has started.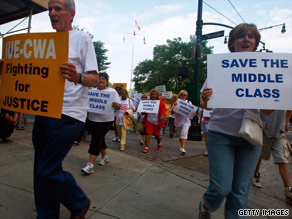 Union members protest this week in New York outside a bankruptcy hearing for General Motors Corp.
Four in 10 questioned in the CNN/Opinion Research Corp. survey released Thursday morning think the country's still in an economic downturn.
"Although polls in recent months have shown some signs of growing optimism, that appears to have stalled," said Keating Holland, CNN's polling director. "In January, 50 percent said the economy was in very poor shape; that figure dropped to 37 percent in April, but now it has risen slightly, to 41 percent."
Bill Schneider, CNN senior political analyst, said, "The prevailing view? We're in a stall."
The poll suggests that when it comes to an economic recovery, Americans agree with President Obama.
Discussing the economy last week at the White House, Obama said, "We're still not at actual recovery yet. So I anticipate that this is going to be a difficult, difficult year."
One in five questioned said the economic conditions in the country today are good, up 9 percentage points from March.
Don't Miss
The economy remains the No. 1 issue on Americans' minds, but that figure has dropped 12 percentage points from March.
"When asked to name the most important issue besides the economy, Americans name health care, followed by the federal deficit and the wars in Iraq and Afghanistan," Holland added.
The CNN/Opinion Research poll was conducted Friday through Sunday, with 1,026 adult Americans questioned by telephone. The survey's sampling error is plus or minus 3 percentage points.
E-mail to a friend

All About Barack Obama • National Economy • Health Care Policy