WASHINGTON (CNN) -- The Obama administration continued its outreach to the Muslim world in July, introducing a special envoy for Islamic relations tasked with improving international dialogue at the grass-roots level.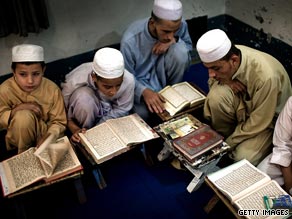 The new U.S. envoy vows to connect with Muslims on the local level. Here students study in a madrassa in Pakistan.
Farah Pandith, the State Department's new special representative to Muslim communities, promised to pursue an "out of the box" approach to local engagement around the world.
"There is no one bullet that's going to fix everything. There's not one program that is going to be the magic program to engage with Muslims," she said at a State Department briefing.
"It's really listening. It's really understanding what's taking place on the ground. It's finding opportunities ... to get to know what others are saying, thinking and dreaming and believing, and acting as a facilitator and a convener and an intellectual partner when we can."
Pandith declined to engaged in many specifics about how she intends to pursue her agenda. She did, however, reference a long State Department history of using "a lot of different mechanisms," including town gatherings, meeting "like-minded thinkers that are innovators and entrepreneurs," and promoting various local community projects.
Pandith also asserted that foreign policy differences between the United States and large segments of the Muslim world are not insurmountable obstacles to building closer relationships over the long term.
Don't Miss
"The vast majority of young Muslims that I [meet are] very interested in thinking about their futures," she said. They want to find new ways to facilitate "communication with other countries ... and with the United States."
Pandith, a Muslim immigrant originally from India, was appointed to the position by Secretary of State Hillary Clinton last week. She previously advised the White House and the State Department on issues relating to Islamic outreach.
E-mail to a friend

All About Hillary Clinton • Islam • U.S. Department of State