By Paul Steinhauser
CNN Deputy Political Director





WASHINGTON (CNN) -- A new national poll suggests that a bare majority of Americans support President Obama's health care plan.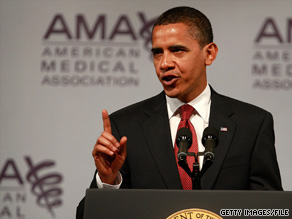 A slim majority of people surveyed support President Obama's health care reform proposal.
The CNN/Opinion Research Corp. survey released Wednesday morning indicates that most people worry that their health care costs would go up if the administration's proposals passed and only one in five thinks that his or her families would be better off under the Obama plan.
Fifty-one percent of people surveyed say they favor the president's health care plan, with 45 percent opposed.
Obama aims to bring down health care costs and provide medical insurance to many of the more than 45 million Americans without coverage. His proposals, which are making their way through five congressional committees in the House and Senate, also call for a government-run health insurance program to compete with private insurers.
"Women and younger Americans are slightly more likely to support Obama's approach to health care," said CNN Polling Director Keating Holland. "Those are usually the groups that are more concerned about health care and health insurance."

Watch a Republican and a Democrat face off »
The poll suggests that 55 percent think the U.S. health care system is in need of a great deal of reform, with four in 10 saying only some reform is needed.
Nearly half of those questioned have more trust in the president than in congressional Republicans to handle health care overhaul, with 38 percent backing congressional Republicans over Obama.
A government-run health insurance program is one of the most contentious features of the Obama health reform proposals, with Republicans suggesting that such a plan could force health care providers out of business, forcing Americans to switch doctors. The poll indicates such arguments may not be working.
Don't Miss
"Two-thirds believe that the president's plan would allow them to see the same doctors they currently receive care from, and most say that their health insurance provider would not go out of business if Obama's plan is passed," Holland said.
The poll does provide some ammunition for Republicans opposed to the president's proposals, however. Fifty-four percent of those surveyed say their medical insurance costs would increase if the Obama plan became law, with 17 percent saying their costs would decrease.
About one in four say costs would remain the same. And only one in five says his or her family would be better off if the president's plan became law, with 35 percent saying they would be worse off, and 44 percent saying they would fare about the same.
Obama's effort is the first major push for health care reform since President Bill Clinton's failed attempts in 1993 and 1994. The poll finds some interesting comparisons.

"In September of 1993, when Bill Clinton was just starting to roll out his ill-fated health care plan, 54 percent said they supported Clinton's ideas on that issue. Today, 51 percent feel the same way about Obama's proposals," Holland said. "That indicates that Obama may have his work cut out for him in the coming months."
The CNN/Opinion Research Corp. poll was conducted Friday through Sunday, with 1,026 adult Americans questioned by telephone. The survey's sampling error is plus or minus 3 percentage points.
E-mail to a friend

All About Health Care Policy • Health Care Costs • U.S. Congress