From Peter Hamby
CNN






COLUMBIA, South Carolina (CNN) -- The attorney general of South Carolina on Tuesday asked the state law enforcement division to review Gov. Mark Sanford's travel records after the governor admitted to more visits with his mistress than previously disclosed.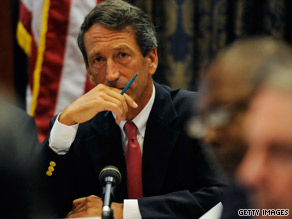 Gov. Mark Sanford has said it's better for him to keep his governorship to "learn lessons."
"In light of the governor's disclosure of additional travel today, I have requested that SLED conduct a preliminary review of all Governor Sanford's travel records to determine if any laws have been broken or any state funds misused," Attorney General Henry McMaster said in a statement.
After returning last week from a secret trip to Argentina that his staff and wife didn't know about, the Republican governor admitted to an extramarital affair and said he had seen his mistress three times in the past year.
But he told The Associated Press on Tuesday he had met with Maria Belen Chapur seven times, including five visits in the past 12 months. Sanford also told the AP he'd "crossed lines" with other women, although Chapur was the only one he had sex with.

Watch what Sanford plans to do with wife »
The review by law enforcement officials would be the first formal probe into whether Sanford abused his power while carrying on his affair.
McMaster, a Republican, has so far been reluctant to move forward with calls for an investigation into Sanford, saying he is wary of mixing legal matters with political score-settling from longtime Sanford opponents.
McMaster is running for governor next year. His opponents say his hesitancy to investigate Sanford is meant to prevent a Sanford resignation, which would elevate Lt. Gov. Andre Bauer to the top office. Bauer, also mulling a run at the governor's mansion, would then be able to run as an incumbent in next year's race.
Don't Miss
Sanford said in a statement Tuesday that he's "pleased that SLED will look into this matter."
"There's been a lot of speculation and innuendo on whether or not public moneys were used to advance my admitted unfaithfulness. To be very clear:no public money was ever used in connection with this."
Sanford spokesman Joel Sawyer confirmed Tuesday that Sanford had met with his mistress more times than he originally admitted.
Two of the meetings in the past year included multiple-night stays in New York, Sanford told the AP. Sanford told the AP he met with Chapur a third time in New York on what was intended to be a goodbye visit. Sanford was accompanied by his spiritual adviser, the AP reported.
Sanford also told the AP of two nonromantic encounters, including their first meeting in 2001 in Uruguay and getting coffee in New York during the 2004 Republican National Convention.
"There was some kind of connection from the very beginning," he told the AP.
He said his experiences with other women took place outside of the United States while he was married, but before he knew Chapur, the AP reported.
Since Sanford's admission last week, there have been growing calls for him to step down, with critics saying he's not able to steer the state out of its economic crisis.
Republican Larry Grooms, who is running for governor in 2010, told CNN Tuesday that Sanford "is incapable of leading because of his behavior."
Unlike many of his colleagues in the chamber, most of whom have remained silent on the resignation question, Grooms, a key conservative ally of the governor, has been a supporter of Sanford's fiscally conservative agenda in the Senate. But Grooms said he told Sanford by phone last Thursday that he thought the governor should resign. Sanford said he disagreed.
"He indicated he believed that his only chance for redemption was to stay in office," Grooms said. "To me that doesn't serve any purpose well. That doesn't serve the people. It's not about him; it's about governing the people of the state."
On Monday, three Republicans in the South Carolina state legislature spoke out against Sanford, saying the best thing for him to do in the wake of last week's scandal is resign.
Sanford wrote in a message to his political action committee e-mail list on Monday that while he considered resigning, "I would ultimately be a better person and of more service in whatever doors God opened next in life if I stuck around to learn lessons rather than running and hiding down at the farm."
In addition, the governor made a round of phone calls to county GOP chairmen around the state to apologize and ask them for a chance to work together over the next 18 months to help restore the public trust, according a Republican source.
State Rep. Nikki Haley, another Sanford ally running for governor next year, said last week that the governor should stay in office because otherwise, Bauer would assume the top office. Haley said that would be a step backward for the conservative reform movement in the state.

Anti-Sanford sentiment is also set to play out in the public eye next week. Glenn McCall, one of South Carolina's three Republican National Committee members, told CNN that he and other conservative activists are organizing a rally for Wednesday or Thursday at the State House in Columbia to demand Sanford's resignation. McCall said he has lined up nearly 400 people ready to attend the rally.
McCall said the event is being organized, in part, because not enough Republican leaders in the legislature have publicly called for Sanford to step down. "There is no leadership out of our Republican majorities in the House and the Senate, so we have to go down to the State House steps and have a rally," he said.
E-mail to a friend

All About Mark Sanford • South Carolina Republican Party