WASHINGTON (CNN) -- President Obama took his case for major health care reform to the airwaves Wednesday night in a nationally televised health care forum while congressional negotiators tackled numerous proposals relating to coverage and cost control.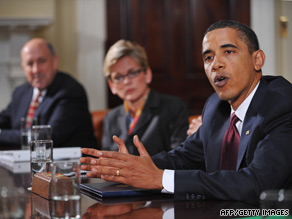 Govs. Jim Doyle, Wisconsin, and Jennifer Granholm, Michigan, talk health care Wednesday with the president.
"Understand that the status quo is untenable," Obama said during a White House town hall-style meeting on ABC.
"Everybody understands we can't keep doing what we are doing. It is bankrupting families. ... It is bankrupting businesses. ... And it's bankrupting our government at the state and federal levels. So we know things are going to have to change."
Sharply partisan lines were drawn earlier Wednesday over the politically explosive question of a possible government-funded public plan competing with private insurers' plans.
Overhauling the health care system is Obama's top domestic priority, but the initial proposals that reached Congress last week received a rocky reception. House and Senate Democrats have since responded by intensifying their efforts.
They held four hearings Wednesday focusing on, among other things, the question of how to pay a price tag that may exceed $1 trillion over 10 years.
Congressional Republicans also jumped into the fight, unveiling an alternative proposal that pointedly prevents any government-funded public option from competing with private insurers.
The GOP is adamant that such a step would destroy the private insurance industry and lead to a government takeover of health care, which it opposes.
Obama argued this week that having a public health insurance alternative is "an important tool to discipline insurance companies" and will help control spiraling health care costs.
The president said there should be a "legitimate concern" about the ability of private insurers to compete with a public plan only "if the public plan is simply eating [from] the taxpayer trough."
Don't Miss
If that were the case, it would be tough for private insurers to compete, Obama said. If, on the other hand, the "public plan must collect premiums and provide [good] services" like private insurers, then private insurers should have no problem competing with a public option, he said.
Obama expressed hope that an efficiently run public plan would push private insurers to make similar cost-cutting moves.
Rep. Tom Price, R-Georgia, said Wednesday that a public option "would be a death knell [for private insurance], because it changes the dynamic" of the marketplace.
"It makes the referee and the player the same person. And when the referee and the player are the same person, if you're on the other team, you lose," Price said.
"What does a government-run program look like in the United States? It looks like Medicare Part B, which is the physician component of Medicare.
"It's a voluntary program [but] has a 97 percent market share. It crowds everything else out of the system."
Sen. Jim DeMint, R-South Carolina, pushed a substitute proposal offering $5,000 for the purchase of private insurance for every family lacking an employer-provided plan.
Congressional Democrats indicated strong opposition to such an idea.
"If reform legislation comes to the floor and if it does not include a real and robust public option that lives up to our criteria, then we will fight it with everything that we have," said Rep. Lynn Woolsey, D-California.
"We feel that the public option is essential to the passage of the health reform bill. It is the cornerstone for many of us of our support," added Rep. Raul Grijalva, D-Arizona.
The political stakes are high for both parties.
Obama is aiming to succeed where every Democratic president since Harry Truman has failed by passing universal coverage. He has raised the stakes by reiterating a promise in recent days to get a bill on his desk by this fall.
Republicans are confident they can deal a major blow to Obama's young administration by derailing any major health care initiative. They point to the defeat of then-President Bill Clinton's health care reform plan in 1994, which helped pave the way for the GOP takeover of Congress that year.
At issue, in terms of policy, is how best to reduce the cost and increase the reach of the health care system, which officials say is draining personal, corporate and government budgets while leaving 46 million Americans without health insurance.
Democrats, while sensing a historic opportunity, are nevertheless reeling from sticker shock. The Congressional Budget Office last week determined that either of two similar bills written by Senate Democrats would cost well in excess of $1 trillion over 10 years, higher than expected.
As of Tuesday night, Senate negotiators had cut about $400 billion from a $1.6 trillion proposal, but that still left them short of their targeted goal of about $1 trillion, Sen. Kent Conrad, D-North Dakota, told reporters.
"The price has come down quite markedly, but we still have a lot of work to do. This is a challenging legislative set of considerations," he said. "It's hard."
Conrad is one of a handful of bipartisan Senate Finance Committee members who are meeting regularly in private sessions to hammer out an agreement. Getting the price tag down to about $1 trillion is key to getting a bill passed, they say.

Watch Obama push for a public option »
Conrad would not divulge details about the cuts, except to say they are coming from "a wide array of places." He said some of the biggest savings have been made by changing the amount of the subsidies the uninsured would get to help purchase insurance.
He said that, despite the cuts in subsidies, the Finance Committee bill would provide insurance coverage for 96 percent of all Americans.
On Wednesday, two key senators said a controversial new tax on employer-provided medical benefits is gaining traction among Senate health care negotiators to help pay for health care reform.
Bipartisan Senate negotiators are "starting to coalesce" around the idea, according to Senate Finance Committee Chairman Max Baucus, D-Montana.
The health care benefits tax is especially politically charged because Obama opposed the idea when he ran for president. White House officials from the president down have sent mixed messages in public in recent weeks about whether he'd accept such a tax.
Baucus says Obama has told him he is "flexible" on the proposal.
Leaving a closed-door negotiating session on health reform, Conrad said, "It's hard for me to see how you have a package that is paid for that doesn't include" the new tax.

Watch bloggers debate health care »
Sen. Charles Grassley, R-Iowa, said the tax would be based on the value of a federal employee's health benefits package, plus 10 percent, meaning a family of four would pay income tax on health benefits valued at more than $17,000. Currently, employer-provided health insurance is tax-free, regardless of its value.

Baucus and Conrad also said they are considering other tax increases not related to health care, including Obama's proposal to reduce tax deductions for wealthy people. Many lawmakers panned the idea when Obama first floated it.
"That's on the table and variations on the theme are on the table," Conrad said, while Baucus said: "There's no free lunch."

E-mail to a friend

Ted Barrett, Dana Bash and Brianna Keilar contributed to this report.
All About Health Care Policy • Barack Obama • U.S. Medicare • U.S. Congress • Max Baucus