By Elise Labott
CNN State Department Producer





WASHINGTON (CNN) -- President Obama has decided to send a U.S. ambassador back to Syria, a dramatic sign of reconciliation between the two countries, the State Department announced Wednesday.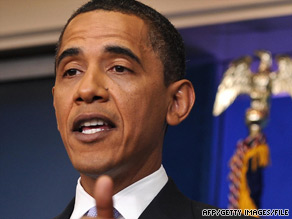 Officials say President Barack Obama has not chosen an individual to serve as ambassador to Syria.
State Department Spokesman Ian Kelly told reporters the Syrian government was notified of the decision Tuesday evening.
"We're prepared to move forward with Syria to advance our interests through direct and continuing dialogue, " Kelly said. "We continue to have concerns about Syria's role in this region, and we think one way to address those concerns is to have an ambassador in Damascus."
Kelly said the decision "reflects the administration's recognition of the important role Syria plays in the region."
"We hope that they will continue to play such a constructive role to promote peace and stability in the region," Kelly said.
Publicly officials say the decision, which was reported by CNN Tuesday, was not in any way related to the election crisis in Iran, although the Obama administration has maintained engaging the Syrian regime could weaken Syria's strategic alliance with Iran.
"The timing is interesting," one senior State Department official acknowledged. "It's all part of the chess game."
Syrian Ambassador to the United States Imad Moustapha said the decision reflects the genuine desire by the United States to reverse Bush administration policy and engage Syria., which he said would be good for both nations and for the region.
Senior administration officials say Obama has not chosen an individual to serve as ambassador. Once he does, the name must go through an informal vetting process with the Syrians before the president's choice is nominated and confirmed.
The United States withdrew its ambassador from Syria four years ago in protest at the assassination of former Lebanese Prime Minister Rafik Hariri. Washington accuses Syria of being behind the killing of the popular statesman in a massive bombing that also left 22 others dead. Syria denies it, but an ongoing U.N. investigation has found indications of Syrian involvement.
A charge d'affaires has been the highest-level American diplomat in Damascus since 2005.
In anticipation of sending an ambassador back to Syria, Assistant Secretary of State for Diplomatic Security Eric Boswell recently traveled to Syria to examine the security situation there. The United States also is interested in building a new embassy in Damascus.
The decision comes on the heels of a visit two weeks ago by Middle East envoy George Mitchell to Syria, where he said he had "serious and productive discussions" with Syrian President Bashar al-Assad about President Obama's goal of a "comprehensive peace," which includes peace between Israel and Syria, and Israel and Lebanon.
"We intend to pursue this as vigorously as possible," Mitchell said.
The visit was part of a series of actions between the two sides that could pave the way for dramatically improved ties.
Last week U.S. Gen. Ray Odierno, commander of U.S. forces in Iraq, told reporters that "Syria has been taking some action" to stop the flow of foreign fighters into Iraq.
Jeffrey Feltman -- an assistant secretary of state who is the department's top official on the Middle East -- and National Security Council official Daniel Shapiro traveled to Damascus twice in recent months in an effort to improve ties with Syria.
The talks, which have been the start of more regular contacts between Washington and Damascus through normal diplomatic channels, focused in part on getting Syria to seal its border with Iraq. Washington has criticized Damascus for turning a blind eye to foreign fighters traveling through Syria into Iraq.
Mitchell's recent visit took place on the heels of Obama's Cairo speech to the Muslim world, where he pledged to pursue a broad-based, comprehensive peace agreement in the region
While Mitchell was in the region, Syria also hosted a delegation of U.S. military commanders in Damascus to discuss joint efforts to stem the insurgency in Iraq.
"All of theses talks, the quality of the discussion and the level of engagement has been unprecedented, at least for the last eight years," Moustapha said
The United States also wants Syrian support in achieving a comprehensive Arab-Israeli peace, and appears willing to nurture indirect peace talks between Syria and Israel, which began last year, over the disputed Golan Heights.
Those talks were suspended after Israel's three-week offensive in the Gaza Strip that ended in mid-January. Damascus wants the United States to become involved if the talks resume.
And the United States is interested in getting Damascus to use its influence with Hamas, which Syria views as a legitimate resistance movement and whose leaders take refuge in Syria.
E-mail to a friend

All About Barack Obama • U.S. Department of State • Syria