WASHINGTON (CNN) -- When people on the government's terrorist watch list have tried to buy guns or explosives in recent years, the government has let them the vast majority of the time.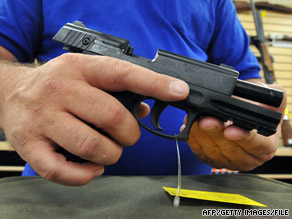 Current law doesn't stop firearm or explosives sales to people whose names are on the terrorist watch list.
That's the finding of a new report by the Government Accountability Office, sent to lawmakers last month and released publicly Monday.
From February 2004 to February 2009, 963 background checks using the FBI's National Instant Criminal Background Check System "resulted in valid matches with terrorist watch list records; of these matches, approximately 90 percent were allowed to proceed because the checks revealed no prohibiting information," the GAO report says. About 10 percent were denied.
"Under current law, there is no basis to automatically prohibit a person from possessing firearms or explosives because they appear on the terrorist watch list," wrote the GAO's director of homeland security and justice issues, Eileen R. Larence.
"Rather, there must be a disqualifying factor (i.e., prohibiting information) pursuant to federal or state law, such as a felony conviction or illegal immigration status."
Of the 963 background checks, 865 were allowed to proceed, and 98 were denied, the report said.
The GAO provided the report in response to a request from Sen. Frank Lautenberg, D-New Jersey. The GAO said Lautenberg had requested an update to a 2005 report.
In a statement Monday, Lautenberg said, "this new report is proof positive that known and suspected terrorists are exploiting a major loophole in our law, threatening our families and our communities. This 'terror gap' has been open too long, and our national security demands that we shut it down."
The statement said Lautenberg is introducing legislation that would give the U.S. attorney general "authority to stop the sale of guns or explosives to terrorists."
However, an official with the National Rifle Association, the leading lobbyist group that espouses gun ownership rights, said problems with the terror watch list made a broad prohibition likely to violate the rights of law-abiding citizens.
"The integrity of the terror watch list is poor, as it mistakenly contains the names of many men and women, including some high-profile Americans, who have not violated the law," said a statement by Chris W. Cox, the NRA chief lobbyist. "In fact, a March 2009 report by the inspector general of the Department of Justice concluded that many people whose names were mistakenly placed on the list remain there even after their cases have been vetted and closed."
The GAO notes that being on a terrorist watch list does not mean that someone is involved in any terrorist activity.
Last month, the Justice Department reported that the FBI had kept thousands of names on its watch list based on outdated information and should have removed them.
E-mail to a friend

All About Gun Control • U.S. Government Accountability Office