WASHINGTON (CNN) -- Images of Iran's crackdown on street protests have "moved" President Obama, his spokesman said Monday.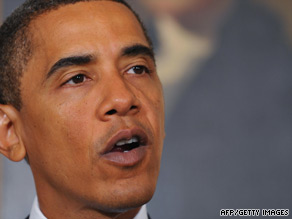 President Obama is said to be particularly moved by stories of female protesters braving the crackdown.
At his daily media briefing, spokesman Robert Gibbs said Obama received briefings on the Iran situation and also followed events through television coverage.
"I think he has been moved by what we've seen on television," Gibbs said, adding that the president was particularly affected by images of women braving the crackdown "to speak out and be heard."
Obama has called on Iran to stop violent and unjust steps that stifle free speech, but some Republicans have criticized him for not siding more strongly with the demonstrators.
Gibbs said Obama's public statements on the situation were intended to prevent Iranian leaders from claiming that the protests were a U.S.-backed attempt to bring down the regime.
"This isn't about a foreign policy that makes us feel good," Gibbs said. "This isn't about a statement that makes us feel good or sound good on television."
Don't Miss

The Iranian demonstrators believe that the June 12 presidential election was a sham. Gibbs said Obama "continues to have concerns and questions ... about how that election was conducted."
Iran's leaders were "being held accountable" by the continuing street demonstrations, Gibbs said, adding that televised images of the government's bloody crackdown were harming Iran's image around the world.
E-mail to a friend

All About Mahmoud Ahmadinejad • Iran • Barack Obama