By Ed Rollins
CNN Contributor






Editor's note: Ed Rollins, a senior political contributor for CNN, is senior presidential fellow at the Kalikow Center for the Study of the American Presidency at Hofstra University. He was White House political director for President Reagan and chairman of the National Republican Congressional Committee.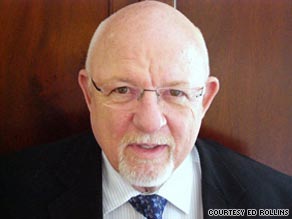 Ed Rollins says it's inspiring to watch Iranians who risk everything for freedom and democracy.
NEW YORK (CNN) -- One of my favorite movies is the Academy Award-winning best picture "Braveheart," a fictionalized retelling of the story of William Wallace, the Scots knight and resistance leader during the Scottish independence wars of the 13th century.
Who can forget the closing scene when Wallace, played by Mel Gibson, is tortured and about to be beheaded?
He is offered mercy and a quick death if he pleads allegiance to King Edward. Instead he yells out the words: "Freedom!"
Two events last week reminded me of that cry for freedom.
The first was remembering 22 years ago last week, June 12, 1987, when President Reagan gave his speech at the Brandenburg Gate. He challenged Soviet leader Mikhail Gorbachev with these words: "We welcome change and openness; for we believe that freedom and security go together, that the advance of human liberty can only strengthen the cause of world peace. ... Mr. Gorbachev, open this gate. Mr. Gorbachev, tear down this wall!"
Two years later when the wall did come down, freedom spread across Eastern Europe.
The second event was seeing hundreds of thousands march in the streets across Iran in protest after the alleged re-election of President Mahmoud Ahmadinejad. Many of us Americans who love democracy and cherish the rights we enjoy daily watched with fascination. We thought something must be happening beyond disgruntled voters whose candidate had lost the election.
And something was happening. What we saw was a cry for freedom!
Don't Miss
I don't have a clue whether Ahmadinejad won by the 63 percent the government reported a few hours after the polls closed. And since I don't know the makeup of the country, I can't tell whether his popularity is as deep as the announced election results show.
I also don't know whether former Prime Minister Mir Hossein Moussavi, the alleged losing candidate, is any better as an advocate of freedom in Iran. Obviously those who voted for him and those who protested must think so.
This is what I do know. It is reported that 85 percent of Iran's 46.2 million voters participated in the election, a record number. As a veteran of many campaigns in this country and as a observer of international elections around the world, I know that it is impossible to count 45 million paper ballots in two hours by hand.
Just remember the presidential recount in Florida in 2000 or the Minnesota Senate race this past November for speedy counts. So I believe Ahmadinejad was declared the winner by a landslide with incomplete or inaccurate information. I have no grounds or personal knowledge to argue fraud or that he didn't actually win. But if he did win, his government's rush to judgment tainted his re-election victory.
But it's also important to remember that when the protests are over, Iran is not a democracy. It is a religious dictatorship and has been since the revolution three decades ago. And regardless of President Obama's efforts to reach out, the Iranian government is not our friend.
Just two men have led that country since 1979: the Grand Ayatollah Ruhollah Khomeini, the leader of the revolution, and following his death in 1989, the Grand Ayatollah Ali Khamenei, who has led the country for 20 years this month. Ayatollah Khamenei is 70 and will lead this country if he chooses until he dies in office, resigns or is removed by the Assembly of Experts (not likely). Their names are similar, and the ruling policy is identical.
It's important to know the supreme leader under Iran's constitution has the equivalent powers of our president, Congress and Supreme Court combined. He can also fire the president, the court or the Assembly or overrule any of them or the laws that they produce.
So no matter who is elected president -- and my assumption is that when the dust is settled, it will be an enhanced Ahmadinejad -- the Supreme Leader Khamenei has ultimate control over internal and foreign policies. He commands the armed forces, he has the power to declare war and peace.
So the important thing for all of us to remember is that for the foreseeable future, the foreign and military policy of that country will continue the status quo, which is anti-United States and anti-Israel, our closest ally in the region.
Remember that Khomeini announced in setting up his government: "Do not use this term, 'democratic.' That is the Western style!"
He also stated: Opposing this government means opposing the sharia of Islam (sharia law guides all aspects of Muslim life, including daily routines, familial and religious obligations, and financial dealings.) Revolt against God's government is a revolt against God. Revolt against God is blasphemy.
But many of those who participated in the Islamic revolution of 1979 did not get what they wanted. Even those who wanted more religious authority could never have believed the repressed status they are forced to endure. And even more of their sons and daughters who have had to live with high unemployment and a repressed lifestyle definitely did not get what they wanted out of the revolution.
And regardless of every government effort to block out the dreaded images of Western culture, the Internet and other modern means of communication have allowed the young and the old to realize there are other worlds beyond Iran's borders with more promising futures.
What is positive, however, is that many Iranian people do want change and still believe they can make a difference at the ballot box and in the streets.
The idea of democracy, free speech, women's rights and civil rights is alive and well and growing by the day. A tiny flicker of the flame of freedom has been ignited.
Just as I was fascinated by the huge crowds and enthusiasm that President Obama inspired during last year's campaign, I am inspired by the fact that so many people in Iran are willing to risk so much, including their lives, for things in which they believe. Hope is what inspired President Obama's followers. But if Iranians want hope, they must change their system of government. That will take another revolution.
Just as Sir William Wallace found out many centuries ago along with hundreds of thousands of brave men and women everywhere since, gaining freedom is never easy. Just ask the families of the thousands of U.S. soldiers who have given their lives fighting for freedom and democracy in neighboring Iraq and Afghanistan -- or the families of the citizens of those nations who have done the same.
The many Americans who won't be home this coming Father's Day with their children or with their own fathers cry out freedom for us all!
The opinions expressed in this commentary are solely those of Ed Rollins.

E-mail to a friend

All About Iran • Mahmoud Ahmadinejad • Elections and Voting • Mir Hossein Moussavi