(CNN) -- Sen. John Ensign of Nevada admitted Tuesday to an extramarital affair with a woman who had worked for him.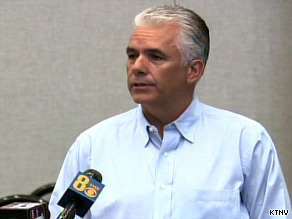 Sen. John Ensign of Nevada is considered a rising star in the Republican Party.
Ensign, 51, would not identify the woman but said she and her husband had been "close friends." Her husband, he said, also worked for him.
"Last year, I had an affair," the Republican senator said outside his office in Las Vegas. "I violated the vows of marriage. It's absolutely the worst thing I've done in my life.
"I take full responsibility for my actions. I know I have deeply hurt and disappointed my wife, Darlene, my children, my family, friends, my staff and those who believed in me. And to all of them, especially my wife, I'm truly sorry," he said.
The senator's office also released a statement from Ensign's wife, saying, "Since we found out last year, we have worked through the situation and we have come to a reconciliation. This has been difficult on both families. With the help of our family and close friends, our marriage has become stronger. I love my husband."
Ensign's spokesman, Tory Mazzola, said Ensign and a campaign staff member carried on the affair from December 2007 through August 2008. Her husband was an official Senate staff member for the senator.
Neither remained in Ensign's employ as of May 2008.
Ensign, a veterinarian, is considered a rising star within the Republican Party. A member of the party's Senate leadership, Ensign last year took over as chairman of the Republican Policy Committee.
He was elected to the Senate in 2000 and comfortably won re-election in the midterm elections of 2006, when Democrats won back Congress. He is up for re-election in 2012.
This month, Ensign spoke to a conservative group in Iowa, stoking speculation that he might have interest in running for the GOP presidential nomination in 2012.

E-mail to a friend

CNN's Ted Barrett contributed to this report.
All About John Ensign