By
John King
CNN Chief National Correspondent





Editor's note: John King, CNN's chief national correspondent and "State of the Union" host, examines the news made in Sunday talk and offers up this Monday morning crib sheet on what to watch this week in politics. Please note that all quotes are from rush transcripts and are subject to change. If you'd like to receive a sneak peek of next week's news in your inbox every Sunday, you can sign up for the "Political Ticker -- State of the Union Sunday Edition" at http://www.cnn.com/profile/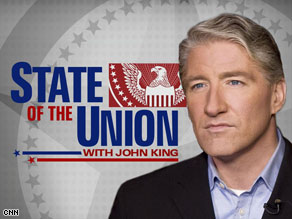 CNN's John King looks back at Sunday's talk shows and what will make news in the coming week.
(CNN) -- Another interesting Sunday, this one dominated by the complicated policy and political choices of the debate over health care and the uncertainty the disputed presidential election in Iran adds to the already unpredictable U.S. and international dealings with Tehran.
Iran's presidential election

Let's begin with the drama overseas: President Mahmoud Ahmadinejad met Sunday with journalists in Iran and said his re-election victory was both fair and overwhelming -- and he had little patience for those at home and around the world who question the legitimacy of the count.
"In a country where 85 percent of people participate in the elections and 62 percent cast votes in my favor and in a country where the people are united with regard to their national interests, all the pillars of the country have been based on people's vote. Speaking of legitimacy is not appropriate. How do you come to the conclusion that people don't accept the results? Did you contact 40 million people? You are just seeing a few individuals who you like to see. This is a mistake you're making. You give such reports to your governments and other countries. And also make the mistake, too."
-- Ahmadinejad at the press conference
Christiane Amanpour, CNN's chief international correspondent, attended this press conference and was rebuffed when she inquired about the safety of Ahmadinejad's leading opponent, Mir Hossein Moussavi, and other opposition officials:
Christiane Amanpour: "Last night in your speech to address the nation, you said that you were the president of all Iranians, no matter who they voted for. I would like to ask you what is the situation with your challenger, Mr. Moussavi, and will you guarantee his safety? Why have opposition reform individuals, officials been arrested?"
'State of the Union'
John King reinvents Sunday talk: more time for more politics.
Sunday, 9 a.m. ET

Mahmoud Ahmadinejad (voice of translator): "The situation in the country is in a very good condition. Iran is the most stable country in the world, and there's the rule of law in this country. All the people are equal before the law and the elections as we have witnessed -- the presidential election has witnessed the people's massive turnout. As I said, even in a soccer match the people may become excited, and that may lead to confrontation between the people and the police force. This is something natural, a person coming out of stadium and may violate the traffic regulations; he will be fined by the police. No matter who he is."
...
Amanpour: "I may have missed the translation. I was asking whether you were going to guarantee the safety -- no. Just the first question. Last night you said that you were the president of all of Iran, including the reformists."
Ahmadinejad (voice of translator): "Yes, I did respond to your question. I said that people come out of a stadium and one person may be angry and may pass the traffic light, violating the traffic regulations and he will be fined by the police."
Moments after the news conference, Amanpour attempted to explain this rather obscure comment by the Iranian president:
"He answered with some kind of allegorical metaphor in which he referred to traffic light infractions and anybody who speeds and goes past a red light will be fined. And he seemed to imply that the opposition had broken the law and were being fined or punished right now."
-- Amanpour on CNN's "State of the Union"
Obama's policy toward Iran

So how does this affect the Obama administration's effort to open a high-level dialogue with Iran over its nuclear program, role in Iraq and continued support for Hamas and Hezbollah?
In short, the administration says: "Stay tuned." But as they wait for more information, Vice President Joe Biden said his first impression is that opposition leaders who say they were cheated might have a case.
"We don't have all the details. It sure looks like from the way they are suppressing speech the way, the way they're suppressing crowds, the way in which people are being treated, that there is some real doubt about that. I don't think we are in a position to say. ...There's an awful lot of questions about how this election was run. We'll see, we're just waiting to see. We just don't have enough facts to make a firm judgment."
-- Biden on NBC's "Meet the Press" Read more of Biden's comments on Iran
Members of Congress also raised questions about the count, and about whether it diminished chances -- and support -- for White House outreach efforts.
"The arrest of opposition leaders for traffic violations probably tells more about the story than anything else that's being reported."
-- Sen. Ben Nelson, D-Nebraska, on CNN's "State of the Union"
"It makes a dialogue much more difficult. I've been suspicious with the hard-line leaders of Iran. We need to give diplomacy a chance, but I'm skeptical it will be acceptable. These voting irregularities, the arrests of opposition clerics and opposition leaders certainly make it far more challenging for the president."
-- Sen. Susan Collins, R-Maine, on CNN's "State of the Union"
"We see the Iranian people in the streets by the thousands saying that they believe that their votes were stolen. This becomes a very serious matter for the Iranian people and certainly for our relations with them."
-- Sen. Kent Conrad, D-North Dakota, on CNN's "State of the Union"
"Well, I think, first and foremost, we need to take a half step back from this administration's olive branch and apology approach to enemies and countries that have been hostile to the United States of America and our allies, particularly with regard to Iran. I think it's important that we step back, that we -- I'm hoping, before the end of the day today, the president of the United States will speak a word of support for Mr. Moussavi and for the dissidents and the reformers within Iran."
-- Rep. Mike Pence, R-Indiana, on CNN's "State of the Union" Read more of Pence's comments
Tension with North Korea, too

Former Republican presidential candidate Mitt Romney also said the situation in Iran was a result of a broader problem in the Obama administration's foreign policy.
"It's very clear the president's policies of going around America and apologizing aren't working. North Korea isn't just saber rattling. They've taken the saber out of the sheath. Iran is moving headlong toward nuclearization. And all his apologies have not let any of those nations to pledge any more support to America."
-- Romney on ABC's "This Week"
Unsurprisingly, Biden had a more positive view of the confrontation with North Korea, praising Friday's unanimous vote by the U.N. Security Council to toughen sanctions in response to Pyongyang's missile tests and threats to beef up its nuclear arsenal:
"The U.N. resolution is probably the most unifying thing that has been done. Look, North Korea is a very destabilizing element in East Asia. Everyone now realizes it. The Chinese realize it; the Russians realize it. They're gone further than they've ever gone in joining us on real sanctions against North Korea."
-- Biden on NBC's "Meet the Press" Read more of Biden's comments on North Korea
Message to U.S. military commanders

One interesting note: CNN has learned that U.S. military commanders in the Middle East were sent a message reminding American forces to maintain discipline and prudence if they encounter any Iranian military forces during potential unrest surrounding Iran's presidential election.
"We are watching, and ensuring disciplined restraint on the part of our naval forces," one official said. The U.S. military's concern is that Iranian naval forces could engage in some activity in the Persian Gulf waters that could be a "triggering event" compelling U.S. forces to react. A second official said there is also great concern that Iran not misunderstand this message calling for restraint and think the United States is lowering its guard. Read more about the highly classified message
Debate on health care overhaul
Let's turn to the home front.
It is a big week ahead for the health care reform debate as President Obama addresses the American Medical Association and key congressional committees get deeper into the business of writing reform legislation.
Big picture, a fair political statement might be this: It is no longer a debate about whether to do anything, but a huge debate over just what to do and how much power to give the government.
"The situation has changed. The good news is, a lot of the people who opposed not only the plan that Harry Truman put forward, and he did relentlessly during his administration, and what Bill Clinton had on the table. They were opponents. They're now at the table."
-- Health and Human Services Secretary Kathleen Sebelius on CNN's "State of the Union"
On Sunday, Sebelius and Biden carried the ball for the administration, expressing confidence that health care reform will pass this year. There also appeared to be a shift in their stance on paying for the overhaul -- after opening the door recently to taxing health care benefits provided by employers, the White House is apparently trying to slam it shut.
"The bill is going to come -- this is going to be one of the most comprehensive changes in law since Medicare. We're going to see what the bill says, but we made clear, we do not believe you should be taxing the benefits people receive through their employers now."
-- Biden on NBC's "Meet the Press" Read more of Biden's comments on health care
"The president starts with the premise that 180 million Americans have health coverage through their employer. That attacks on those benefits may dismantle the marketplace. While you make sure we cover the 47 million Americans that don't have coverage, what we don't want to do is destroy the system that currently is in place that lots of Americans like."
-- Sebelius on CNN's "State of the Union" Read more of Sebelius' comments
"I mean, the idea that you're going to have people out there that are struggling to make ends meet today, they're falling further and further behind with wages, people losing jobs, losing homes. To turn around and say you have no change in your health care plan and by the way we're going to tax you."
-- Sen. Christopher Dodd, D-Connecticut, on "Fox News Sunday"
"Keep in mind, everyone today faces a hidden tax, estimated for most families at $1,000 a year that we pay in health insurance premiums that we shouldn't pay. It's money that we're paying to cover those that have no health insurance and to really sustain a bloated system, a system that really needs efficiency. So to argue that we're going to pay a new tax, we're facing that hidden tax today."
-- Sen. Dick Durbin, D-Illinois, on CBS' "Face the Nation"
On the right, a number of Republicans questioned the costs and said more red ink was not the right prescription for the country's financial ailments. And some see, in the limited public option the administration wants now, a back channel effort to lay the groundwork for a government-run, single-payer health care system down the road.
"We can make incredible improvements in American health care. But I don't think that having more government, putting Washington in between you and your doctor, is the way to go."
-- Senate Minority Leader Mitch McConnell, R-Kentucky, on CBS' "Face the Nation"
"I keep hearing the word 'competition' on all the programs this morning. You know, the government competes in the private sector the way an alligator competes with a duck. I mean, the reality is ... that if you introduce a government-funded option into the private health insurance industry, millions and millions of Americans will lose their current health insurance because their employers will simply either, you know, either choose to discontinue coverage or you'll see health insurance companies out across the country say, you know, we can't compete with Uncle Sam."
-- Pence on CNN's "State of the Union"
Tax on health care benefits?
On "Fox News Sunday," Chris Wallace asked Sen. Charles Grassley, R-Iowa, if the Senate Finance Committee would propose a tax on health care benefits.
Grassley: "The answer is we could, but it's going to take the president of the United States, who made a big deal out of [John] McCain so-called increasing taxes -- and the McCain plan was a very good plan, but the president drove it into the ground, won the election. It looks like he's looking at doing similar to what McCain wanted to do, and I think for the benefit of making this bipartisan, presidential leadership in this area would be very good based upon the tune of the last campaign."
-- Grassley on "Fox News Sunday"
"This is not about getting competition in health insurance, which is already there. This is instead a Trojan horse. Barack Obama said when he ran for office, said he's in favor of a single-payer system. He said it for years. This is a way of getting government into the insurance business so they can take over health care."
-- Romney on ABC's "This Week"
Perhaps the voices most worthy of note are those in the middle -- such as the three senators featured Sunday on "State of the Union" -- who are skeptical of the so-called "public option" where a government-owned insurance plan competes with private insurance plans. One lawmaker -- Conrad, chairman of the Senate Budget Committee -- said that the president's approach doesn't have enough votes in the Senate and that the White House is going to have to compromise.
"This really isn't, to me, a matter of right or wrong. This is a matter of, where are the votes in the United States Senate? ... I think you're in a 60-vote environment, and that means you have to attract some Republicans as well as holding virtually all the Democrats together. That, I don't believe, is possible with the pure public option."
-- Conrad on CNN's "State of the Union"
There was praise for Conrad's suggestion that, instead of a government plan, insurance "co-ops" could be formed, giving consumers additional bargaining power but avoiding the negative aspects of government control.
"Well, I think Sen. Conrad is on to something here. This -- this can be an additional method for competition. You will have private insurers. You can have cooperatives. ...
"What we want to do is, we want to make sure that we preserve what's there -- the president has made that very clear -- and be able to have competition, but to do it in a way that you don't destabilize the insurance for 200 million Americans, trying to provide a way for 42 to 46 million Americans to have health insurance as well."
-- Sen. Ben Nelson on CNN's "State of the Union"
"It's far preferable to the government-run plan that has been discussed by the administration. So this is a possible compromise. I need to know more details. We need to better understand how it would work. But it's certainly better than a Washington-run plan."
-- Sen. Susan Collins on CNN's "State of the Union" Read more of the senators' comments on health care
Problems of the uninsured
We also took a look at health care through the eyes of the uninsured and two doctors who take time to volunteer in free clinics. They don't get votes in Washington, but they see firsthand every day the issues under debate in Congress.
John King: "This is the employees' clinic at Florida Hospital in Orlando , but Mary Yates doesn't work here -- in fact she doesn't work at all. Two years ago, she lost her job, then her home ... and more."
Mary Yates: "I am the person who has fallen through the cracks here after working all these years. You know, I thought I was saving toward retirement -- I have used that."
King: "So without this clinic, you would be what?"
Yates: "I might be dead. That is what they were telling me."
Dr. Jenni Keehbauch, medical director of After Hours Clinic: "In our county alone, we have 200,000 patients that are uninsured, and so there is just poor access to care. And the care is fragmented. Even people with insurance, you know, they have a lot of specialty care, but they don't have a primary care person that is captaining the ship."
Dr. Dennis Saver, primary care physician: "You can't have a system in which people are out of it when they are healthy and only in it when they are sick, and it's kind of like everybody pays taxes ... to make the infrastructure work, you have to have everybody in there contributing." Read more about the health care situation
E-mail to a friend

All About Barack Obama • Iran • Mahmoud Ahmadinejad • North Korea • Health Care Policy