By Rachel Streitfeld
CNN





WASHINGTON (CNN) -- Maryland auto shop owner Brian England offers health care coverage to his 18 employees, including part-time staff. He calls it "the right thing to do," and besides, he knows taking care of his employees makes good business sense.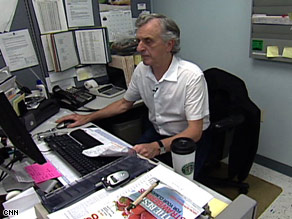 Brian England, president of British American Auto Care, catches up on paperwork at the office.
But every year his insurance premium costs rise another 10 or 20 percent, and England worries about the day when the fees will overwhelm him. After payroll and rent, health care is his largest business expense.
"A business down the road could have their labor rate $5 cheaper than us because that's how much it costs for us to provide health care," England said, referring to the hourly rates his business and competitors might offer customers.
Of the 46 million Americans living without health care, an outsized majority -- about 60 percent -- work for small businesses, according to the nonprofit Employee Benefit Research Institute. Owners of those businesses say Congress needs to find a solution to an increasingly costly problem -- but they disagree about how to get it right.
For England, shopping for policies and finding a way to afford to offer the benefits has become a yearly headache.
"I'm in the business to do auto repair," England said. "I'm not in the business of trying to find out how to provide health coverage and how to get the right sort of plan.... And it's not easy."
David Guernsey, who employs 170 people at his office supply business in Virginia, has struggled with the same rising costs to cover his employees -- some years, premiums have gone up 25 percent.
His small company can't hope to compete with the benefits much larger companies can afford to offer their employees.
"Their premiums are dramatically lower than ours are," Guernsey said. "They have leverage over the health care industry to be able to drive their premiums down, and yet we have to be able to compete with those folks. So it increasingly becomes a major competitive issue for us."
Guernsey said that, occasionally, job seekers have complained that they're looking for a plan with more extensive coverage than Guernsey's provides, but he called the plan "pretty good, pretty competitive" and said no one has ever turned down a job offer in hopes of getting better benefits elsewhere.
Both Guernsey and England agree the problem of ballooning costs must be fixed, and they expect the government to take some role in addressing health care costs. Watch business owners discuss the challenges they face

Guernsey is skeptical of too much government involvement, and worries a mandate for employers to offer coverage could push up his premiums.
"If the requirement were such that the kind of coverage we offer were dramatically different, dramatically more comprehensive, and the cost accordingly would go up significantly -- then that would be a problem," he said.
Instead, he's hoping small businesses can pool their coverage with larger businesses in order to drive down prices.
England, however, said he would like to see a government health care plan and an emphasis on preventative care. He said a government plan would force insurance companies to offer competitive rates.
"I think once we get to doing that and everybody has insurance and we start to push it with the preventative care and community care, that's going to drive down the prices," England said.

Taking preventative steps is, after all, something he's learned through his work.
"We've preached preventative care to customers with cars for 31 years," England said. "So if we know it works with cars, we know it works with people, we all know that. It's just a matter of everybody getting onto the plan."
E-mail to a friend

All About Health Care Policy • Small Business