By
John King
CNN Chief National Correspondent





Editor's note: On CNN's "State of the Union," host and chief national correspondent John King goes outside the Beltway to report on the issues affecting communities across the country.
ORLANDO, Florida (CNN) -- Mary Yates has high blood pressure, high cholesterol and a nagging, sore hip. And no health insurance.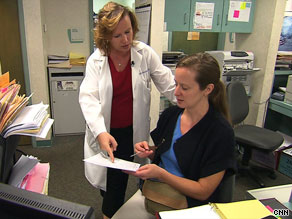 Dr. Jenni Keehbauch is the medical director at a free clinic for the uninsured.
"You know, I am the person that has fallen through the cracks here after working all these years," is how she puts it. "I thought I was saving towards retirement. I have used that."
She sold most of her jewelry, too, after losing her job as a legal secretary, and then her home two years ago. She moved from Memphis, Tennessee, to the Orlando area because she has a daughter who lives here and believed it would be easier to find work.
"Not realizing what was happening with the economy," Yates says. "And a year later, here I am without a job."
Without a job and now among the more than 40 million Americans who lack health insurance.
We met Yates at the "After Hours Clinic" -- a free clinic for the uninsured that borrows space from the employees' clinic at Florida Hospital in Orlando. Dr. Jenni Keehbauch is the medical director at the clinic, which is open three days a week. She says Yates' story is all too common these days.
"We have a finite number of visits that we can see in an evening," Keehbauch told us in an interview as the clinic prepared for its evening rush this week. "What we've found is that we're turning more patients away, unfortunately.
"We're seeing patients that saw us in the early 2000s, left us, got insurance, and then now they are coming back saying, 'Hey we're glad you are here -- I just got laid off.' We're seeing a lot of that recently."
'State of the Union'
John King reinvents Sunday talk: more time for more politics.
Sunday, 9 a.m. ET

As President Obama and the Congress turn their attention to health care reform, the uninsured are a major focus. Proponents of universal or near-universal coverage say an imperative in trying to control spiraling health care costs is to greatly expand coverage, so that those who now do not have insurance get their care in a doctor's office and not by walking into a much more expensive emergency room.
"What's wrong with the health care system in the United States?" Keehbauch says when we raise the question. "Well, it's not for everybody, you know. In our county alone, we have 200,000 patients that are uninsured. So there's just poor access to care."
Florida provides a telling snapshot of the big questions in the health care reform debate. In addition to its large population of those without insurance at least part of the time (some estimates run as high as 5.8 million), Florida has an high percentage of elderly residents dependent on the Medicare program and an acute shortage in an area that many see as a central component in any successful reform effort: primary-care physicians.
"Even people with insurance, they have a lot of specialty care, but they don't have a primary-care person captaining the ship," Keehbauch said.
Dr. Dennis Saver has a similar diagnosis.
"If you have a really strong, vibrant, primary-care base where the physicians are well-trained and can handle 90 percent of what walks through their door at that time, without having to resort to a lot of tests, do a lot of referrals, do a lot of other things -- those folks that get that care, are healthier and it costs them less," Saver told us at his office in Vero Beach, about a two-hour drive east from Orlando. "So the country, I think, needs a lot better primary-care access than it has right now."
Like so many issues in the health-care debate, Saver said there is no one reason for the shortage of primary-care physicians. But, in his view, economics is the single biggest: Medical school students likely to enter the work force with considerable debt know that specialties tend to pay more, often twice as much.
"That's a big problem," he says. "I think the federal government can play a major role in how graduate education is funded. That can make a big difference."
The reach and role of government is a driving subplot of the health-care debate and an area of debate and disagreement among the patients and providers we talked to while in central Florida this week.
The lawmakers with the greatest role in shaping the legislation in Washington advocate a "public option" in any major reform package, meaning a consumer who didn't like an insurance plan available from the private sector could buy a plan administered by the government.
"It is a proposal that certainly has insurance companies upset," Saver told us. "They don't like it one bit, and I can understand that because it would certainly infringe on their ability to do business. However, insurance companies haven't led us to where we need to be. They have been part of the problem, not part of the solution. And if there is something that motivates them to be better, then that might not be so bad."
Saver also is in favor of another proposal that is a pressure point in Washington: a mandate requiring individuals to get health insurance.
"I think it does make sense because you can't have a system in which people are out of it when they are healthy, and only in it when they are sick," he said. "And so it is kind of like everyone pays taxes. And you don't have a special exemption to pay taxes because you don't feel like it because you think you have had a lucky year. So to make the infrastructure work, you really have to have everyone in there contributing."
Yates, the 54-year-old uninsured woman we met at the free clinic in Orlando, says she agrees with a mandate so long as premiums were on a sliding scale to help lower-income Americans and there were protections to provide coverage for those who can't afford any premiums.
She doesn't much trust politicians. And while grateful for the free clinic, Yates thinks she and others like her should be able to get more comprehensive care until they can find work and begin contributing to the costs.

"What am I going to do?" she asks. "I have raised my children -- I didn't rely on government then. I bought my own home since I was 21 years old. I owned three homes ... put my kids through school."
"I had insurance, places I worked gave us insurance, and I paid for it. I never have gotten it for free," Yates said. "Doesn't matter what I have done for the past 30-something years. I'm being judged on what has happened to me in the last two years, you know, so how do I get past that?"
E-mail to a friend

All About Health Care Costs • Barack Obama