(CNN) -- Alaska Gov. Sarah Palin isn't saying what's in her political future.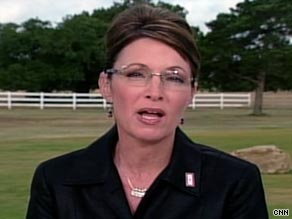 Alaska Gov. Sarah Palin says she thinks President Obama is "growing government way too quickly."
Asked if she definitely plans to seek re-election in 2010 -- a move unlikely for someone seeking the White House -- Palin told CNN's Wolf Blitzer, "I'm not definitely going to do anything yet."
In the past week alone, the former Republican vice presidential nominee appeared at a GOP fundraiser in Washington, attended a baseball game in New York and led a small-town parade on the East Coast thousands of miles from home.
But Palin said, for now, she's focusing on her state and her family.
"So, no decision yet on either 2010 or let alone 2012?" Blitzer asked.
"No decision that I'd want to announce today," Palin responded in an interview that will air at 6 p.m. ET Friday on CNN's "The Situation Room."
Asked her thoughts on President Obama, Palin said she thinks he is "growing government way too quickly."
"He's digging that hole of debt for our country that we're going to pass on to our children and our grandchildren, expecting them to pay off debt for us. It's a selfish thing that we're doing right now if we think that is OK," she said.
Palin said she does, however, like Obama's message about "reining in spending and finding efficiencies within government."
"I encourage him to follow through on that," she said.
Palin also said she'd like to see "more passion" from Obama in voicing his support for Israel.
"I would certainly like our president to stand very, very strong and bold in his statements about our protection of Israel that so many of us believe in," Palin said.
In his wide-ranging address on American and Muslim relations last week, Obama explored the Palestinian and Israeli conflict, endorsing a two-state solution and urging compromise and understanding between "two peoples with legitimate aspirations."
Asked if she was suggesting the president is not pro-Israel enough, Palin said, "I'm sure he is pro-Israel.
"I would have liked to see more passion in the talk he gave regarding our friends in Israel, our strongest ally, making sure they know that we are here for them. We're going to stand by their side; we're going to help them."
Palin also defended a proposed $26 billion natural gas pipeline in her state, saying demand for natural gas is on the rise in the United States.
"By probably 2030, we'll see about a 40 percent increase in demand for natural gas," the former Republican vice presidential nominee said.
"Domestically, we have the supply. The resources are up there in Alaska, and it's time that we build this infrastructure and flow that very valuable resource into hungry markets throughout the U.S."
Palin's comments come as some critics have questioned whether there's an adequate demand for such a massive expenditure.
The Alaska governor called those views "shortsighted," saying the project is "right for our nation's security and for our environment, for our economy." Palin also said some politicians questioning the pipeline are up for re-election and accused politics of playing a role in their criticisms.
"Really, Wolf, I think they do support it. They voted for it. I think there's just some political wrangling going on right now to position themselves," she said.
Palin praised the recent alliance of TransCanada and Exxon Mobil, two rivals in the long battle of who would build the pipeline -- and take a stake in the future revenue it generates.
"The numbers speak for themselves. Largest companies in the world aligning to get the project built for national security reasons and for our environment and for our economy," she said.
Palin also shot back against David Letterman, saying it was a "weak, convenient excuse" for the talk-show host to claim a controversial joke of his targeted Palin's older daughter, Bristol, and not her 14-year-old, Willow. Related: Palin cries foul over Letterman's joke
"My 14-year-old was there with me at the game. She was the only one there with me," Palin said.
Letterman joked Tuesday that Palin's "daughter was knocked up by Alex Rodriguez" at a recent Yankees game. The talk-show host admitted the following night that the joke was in "poor taste," but he insisted the line was in reference to 18-year-old Bristol, who gave birth to a boy in December.
"Regardless of which daughter it was -- inappropriate," Palin said.
E-mail to a friend

CNN's Kristi Keck and Alexander Mooney contributed to this report.
All About Sarah Palin • Barack Obama