From Brianna Keilar
CNN






WASHINGTON (CNN) -- As Democrats put together the framework for sweeping health care legislation, lawmakers are running into competing demands within their own party.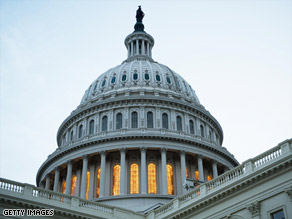 Democrats hope to pass health care reform legislation this year.
House Democrats on Tuesday filed into a room in the basement of the Capitol to be briefed by committee chairmen and Democratic leaders orchestrating an overhaul of the nation's health care system.
Some thorny issues emerging include a requirement that all Americans carry health insurance and that employers help pay for it, along with a government-run health insurance option to compete with private plans.
"If you like the health insurance you have got, you can keep it. No one is going to try and take it away. But, if you don't like what you have got or you don't have any, you are going to be given these different options, including a public option to try and create competition," Rep. Chris Van Hollen, D- Maryland, said Tuesday.
But conservative Democrats insist government-run health insurance should only be available as a last resort if private plans don't meet certain benchmarks. Some Republicans have said a public option is a deal breaker.
But others insist there must be a public option, including leading African-American, Hispanic and Asian-American members of Congress who also want to address the health care gap between whites and minorities.
"Major hospitals in South Central closed down. Now people have to go a dangerously 18 minutes more away from that hospital for emergency care. These are some of the things we tend to set up as objectives to reach the goal of comprehensive health care for all Americans," said Rep. Diane Watson, D-California.
Also up for debate is how to prepare for the plan, which is expected to cost more than $1 trillion. One proposal is to tax insurance benefits provided by employers. That idea doesn't sit well with some lawmakers including Rep. Gerry Connolly, D-Virginia.
"You know, those health benefits are very important to my constituents, and I don't think they would welcome seeing those benefits somehow reduced ... by taxing or affected negatively by taxing," Connolly said.
Getting the support of rank-and-file members such as Connolly is key for Democratic leaders because most Republicans say they oppose both the insurance mandate and any type of government-run insurance plan, saying it's going to drive private insurers from the market.
Critics also say a government-sponsored option could potentially lower the quality of health care. Some fear that such a program would hurt those who have a plan they like because employers would opt for the government program if it were less expensive.
Committee leaders say they expect the full House to receive a bill by August. President Obama wants the legislation on his desk no later than October.
Meanwhile in the Senate, Sen. Edward Kennedy, D-Massachusetts, released his version of a health care bill on Tuesday.
"Our goal is to strengthen what works and fix what doesn't," Kennedy, who has been sidelined for months by a brain tumor, said in a statement issued by his office and the Senate Committee on Health, Education, Labor and Pensions.
However, Senate Republican leader Mitch McConnell of Kentucky warned that Democrats were trying to hurry the legislative process without giving proper attention to such an important matter.
"So the need for reform is not in question. The real question is what kind of reform -- the kind that makes care more affordable and accessible; or the kind that makes existing problems worse," he said Wednesday."
Unlike previous attempts to address the complex and thorny issue, this year's health care debate includes acknowledgments by major players such as the insurance industry that a system reform is needed.

Also Tuesday, the leaders of the Senate Budget Committee asked the Congressional Budget Office to analyze how health care reform can decrease health costs.
"In the long term, the U.S. faces more than $38 trillion in Medicare obligations that we don't know how to pay for," Sen. Judd Gregg, R-New Hampshire, said in a statement. "Reform of the health care system is a must, but any policy we adopt to help families today must also take into account the future families of our children and grandchildren."
E-mail to a friend

All About Health Care Policy • Barack Obama