From Deirdre Walsh
CNN Congressional Producer





WASHINGTON (CNN) -- House Democratic leaders plan to drop a provision -- backed by President Obama -- from the $100 billion war funding bill that would bar the release of detainee photos, according to House Democratic congressional aides.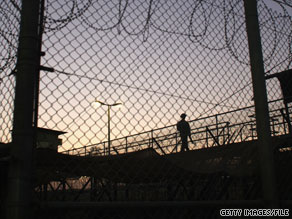 President Obama opposes the release of photos allegedly showing abuse of detainees.
The language, added as an amendment to the bill by Sens. Joe Lieberman, D-Connecticut, and Lindsay Graham, R-South Carolina, would make requests to the Defense Department for the detainee photos exempt from the Freedom of Information Act.
A Democratic aide told CNN that the decision to drop the language would not interfere with the administration's request to ban the release of the photos because the U.S. Supreme Court is still expected to review the legal challenge filed by the Department of Justice arguing against their release. In the meantime, the photos are not being released.
In May, Obama ordered government attorneys to object to the court-ordered release of photos depicting the mistreatment of prisoners, reversing an earlier White House decision.
The Pentagon had been set to release hundreds of photos in response to a Freedom of Information Act request filed by the American Civil Liberties Union before Obama's orders.
Liberal Democrats in the House of Representatives oppose the provision attached to the war funding bill because they believe it is too broad and could set a precedent blocking requests for information from executive agencies.
House Democratic leaders are scrambling for votes to pass the war funding bill this week after the Senate added two provisions supported by Obama. In addition to the measure on detainee photos, the Senate also added $5 billion for loan guarantees for the International Monetary Fund.
Don't Miss
House Republican Conference Chairman Mike Pence, R-Indiana, on Monday said the GOP was united against the IMF money, saying, "The war supplemental ought to be about war funding and not a global bailout."
The original House version of the war funding bill passed last month with strong bipartisan support.
With Republicans promising to oppose the current bill, Democratic leaders need to flip the votes of some of the 51 Democrats who voted against the measure last month.
The Democratic aide admitted that dropping the detainee photo language was designed to get support from some of these anti-war Democrats, who do support assistance for the IMF.
"We know that the liberals won't vote for it [with this in], and we need the liberals to vote for it," the aide said.
E-mail to a friend

All About Barack Obama • House of Representatives