(CNN) -- As the nation's unemployment rate inches toward double-digit territory, the White House insists that job creation is on the way.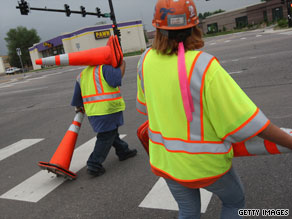 Road construction employees work on a project funded by the federal stimulus in May in Littleton, Colorado.
Vice President Joe Biden on Monday is presenting to President Obama the "Roadmap to Recovery," a plan to accelerate the implementation of the $787 billion stimulus plan in its second 100 days.
Obama signed into law the American Recovery and Reinvestment Act in February, vowing the program would create or save 3.5 million jobs. So far, 150,000 jobs have been saved or created by the plan -- fewer than that 345,000 jobs lost in May alone.
The White House says as a result of the expedited pace, the recovery plan will create or save more than 600,000 jobs in the second 100 days.

Watch what the stimulus plan has done so far »
But House Republicans, who never supported the stimulus, are saying, "I told you so."
"Today's announcement is an acknowledgement that the Democrats' trillion-dollar stimulus is not working, and the American people know it," House Minority Leader John Boehner, R-Ohio, said in a statement Monday.
"When they passed this spending plan, Democrats said it would immediately create jobs, yet nearly four months later unemployment has continued to climb and none of their rosy predictions have come true," he said.
The White House said the stimulus is a work in progress. Biden said last week the administration "will not be satisfied until we are adding jobs on a monthly basis."
In a news release, Obama said, "We have a long way to go on our road to recovery, but we are going the right way." He called for more progress that "American people see in their own lives," adding, "Surely and steadily, we will turn this economy around."
Of the funding allotted so far, the Education Department ranks first in stimulus spending. Despite the administration's talk of "shovel ready projects," the Department of Transportation ranks fourth.
"I think if you were to poll all of America they would probably think that there is $800 billion worth of asphalt in the Recovery Act," said Chris Whatley, Washington director of the Council of State Governments.
"States are facing their worst revenue shortfall that they've ever faced, and when states hit the wall on tax collections, they make stark choices. They lay off teachers, they furlough prisoners. These are things that have an immediate impact on the lives of communities," he added. "States are still facing some very tough choices. But without the Recovery Act, states would be in dire situations."
The nation's jobless rate is at 9.4 percent, but the administration predicts that job creation will come next.
"The president said it was going to take some time for it to filter through the system and that employment was the last thing that was going to respond," White House senior adviser David Axelrod said Sunday on CNN's "State of the Union."
But by then, critics of the stimulus argue the economy will be staging a comeback on its own.
"Economists were forecasting all along that the economy would come out by the end of the year. So you can't have it both ways. If [the president] relied on economists, then why did he not he rely on their projections?" asked Peter Morici, an economist with the University of Maryland.
Senate Minority Leader Mitch McConnell, R-Kentucky, said Monday he's "skeptical that the spending binge that we're on is going to produce much good and, even if it does, anytime soon."
"And I think the economy is just as likely to begin to recover on its own, wholly aside from this, before much of this has an impact," McConnell said in a statement.
The road map being presented Monday highlights 10 new projects that the White House says will define the next phase of the plan. The administration says it will:
Enable 1,129 health centers to provide expanded service to 300,000 patients (Department of Health and Human Services);
Start work on 107 national parks (Department of the Interior);
Start rehabilitation and improvement work on projects at 98 airports and more than 1,500 highway locations (Department of Transportation);
Fund 135,000 education jobs (Department of Education);
Begin improvements at 90 veterans medical centers (Department of Veterans Affairs);
Create or save about 5,000 law enforcement officer positions (Department of Justice);
Start 200 waste and water systems in the rural U.S. (Department of Agriculture);
Begin or speed up cleanup work at 20 Superfund (hazardous waste) sites from the National Priority List (Environmental Protection Agency)

Create 125,000 summer youth jobs (Department of Labor);
Start 2,300 construction and rehabilitation projects at 359 military facilities (Department of Defense).
E-mail to a friend

CNN's Jim Acosta, Kristi Keck and Tom Cohen contributed to this report.
All About Barack Obama • Economic Stimulus