By Peter Hamby
CNN Political Producer





WASHINGTON (CNN) -- A Republican official involved in the planning for Monday night's major GOP fundraising dinner said the Alaska governor is "expected to attend" the event "and will be sitting with Sen. John Cornyn and his wife at their table."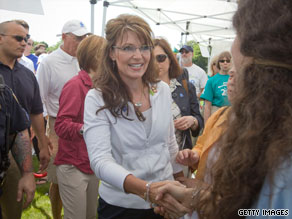 Gov. Sarah Palin attends an autism awareness fundraiser Sunday in Purchase, New York.
The source, who spoke on the condition of anonymity because of internal GOP politics, said Palin is not expected to make formal remarks but will be recognized during the program.
A Palin spokeswoman refused to confirm whether the governor planned to attend the event.
The report is the latest headline-grabber out of what was intended to be a low-key trip to the East Coast, out of the glare of the national media. Instead, the Alaska governor has found herself in the political hot seat once again.
With Palin in Washington on Monday attending to state business, Republicans on Capitol Hill had been left wondering whether she would make an appearance at the party's high-profile dinner Monday night, after a late attempt to have her speak at the event appeared to fall through.

Watch Palin give speeches, attend events in New York »
Although the governor had a standing invitation to attend as a guest, Republicans didn't have a clue whether Palin would show up.
Sen. John Cornyn, the chairman of the National Republican Senatorial Committee, had personally reached out to Palin to offer her a seat at his table, according to an aide.
A GOP official involved in the planning of the event characterized the situation Monday as just "a minor distraction" from what is expected to be a successful fundraiser.
Former House Speaker Newt Gingrich, in the news himself for critical remarks about President Obama's Supreme Court nominee Sonia Sotomayor, is set to headline the joint fundraising dinner for the Senate and House Republican campaign committees.
Gingrich was slotted to replace Palin on the program in March after she and her staff waffled over whether she would accept the speaking invitation, which had been announced by both the senatorial committee and the National Republican Congressional Committee.
At the time, Palin's office in Alaska said that her political staff in Washington had agreed to the invitation without consulting the governor.

Last week, Palin reached out to the committees through Republican fundraiser Fred Malek to say she would be in Washington on the day of the dinner and would be available to speak. Malek and Cornyn attempted to work out a plan that would allow Palin to make a brief speaking appearance on stage.
But Rep. Pete Sessions, the congressional committee chairman, was concerned that Palin might upstage Gingrich, so the governor was told she would not be able to deliver remarks but was still welcome to attend.
E-mail to a friend

All About Newt Gingrich • Sarah Palin • Republican Party